Smoky, Zesty White Bean-Kale Dip is one of many dishes on our site that perfectly exemplifies The Capsule Kitchen. It relies on a base— A Pot of White Beans— and two essentials—Quick "Roasted" Garlic & Shallow-Cooked Winter Greens. If you have even one or two of these Capsule Kitchen Elements in your fridge, this dip comes together super-fast. And, even if you don't, there are still ways to make this dip quickly.
Using CK Elements
If you've taken time in the week to soak and cook A Pot of White Beans, use three cups of them in this dip. If not, just drain two cans of white beans—any variety will do as they get pureed in the food processor.
The oil and the garlic cloves give this dip its subtle, rich flavor. You've struck gold if you've got a jar of Quick "Roasted" Garlic in the fridge. Start by straining 1/4 cup of the garlic oil in a large skillet. Then add 12 garlic cloves (roughly the equivalent to a whole head of roasted garlic). If you don't have Quick Roasted Garlic, check out the recipe and see how in just fifteen minutes, you can have this jar of culinary magic at your disposal.
Finally, if you've got Shallow-Cooked Winter Greens, then you're ready to make this recipe. (It's just dumping a two-pound bag of kale into 2 quarts of boiling, salted water and cooking it for seven minutes.) If you don't, then you can use thawed frozen kale or even spinach. But if you take the time to shallow-cook the kale, you'll have a second portion of leftover greens for another dish later in the week.
Making White Bean dip
Now you're ready to make the dip. Cook the greens and flavorings, first in the garlic oil, followed by a short five-minute simmer in a little broth. Dump the hot greens into the food processor with the garlic cloves and process. Add the beans and continue to process to form a wonderfully flavorful, healthy dip.
Use Leftovers for Soup
And here's a news flash. If you've got leftover dip, dump it in a pot and heat it up, adding broth to your desired consistency, for a satisfying instant soup.
Festive Plant-Based Appetizer Board
This makes a great addition to Planetarian's Festive Plant-Based Appetizer Board. We load the board up with Festive Beet Hummus, Mushroom Paté, Smoky, Zesty Kale-White Bean Dip, Planetarian "Cheese" Ball with Cranberries and Walnuts, Union Square-Inspired Rosemary Spiced Nuts, and Jumbo Homemade Crackers. Then we fill out the rest of the board with classic paté accompaniments—pickled onions and cornichons—crowd pleasing crudité, olives, peppadew peppers, and dried fruit.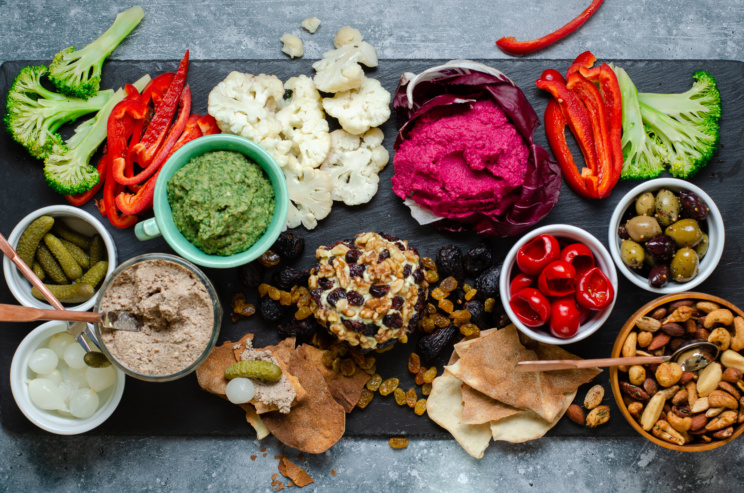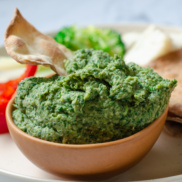 Smoky, Zesty Kale-White Bean Dip
Recipe Notes
If you don't want to shallow-blanch the kale, simply sub in a 1-pound bag of frozen kale, thawed.
Ingredients
1/4

cup

of oil and 12 garlic cloves from Quick "Roasted" Garlic

1/2

recipe

Shallow-Cooked Winter Greens,

using kale

2

teaspoons

each: minced fresh rosemary,

smoked paprika, and finely grated lemon zest

1/4

teaspoon

hot red pepper flakes

1/2

cup

broth

your choice

2

cans (15-16 oz each)

white beans, drained

(about 3 cups cooked from A Pot of White Beans)

Salt and ground black pepper
Instructions
Heat roasted garlic oil and cloves in a large skillet over medium heat. Add greens, rosemary, smoked paprika, pepper flakes; sauté to blend flavors, just a few minutes. Add broth; simmer to further tenderize greens and blend flavors, about 5 minutes longer. Dump greens into food processor and puree. Add beans, lemon zest, and a generous sprinkling of salt and pepper; process until pureed. Taste and adjust seasonings. (Can be covered and refrigerated for at least a week.)