You could just open a jar or a can of mixed nuts, pour them into a smart-looking bowl, set them out, and that would be just fine. If your guests are hungry, those nuts would certainly satisfy. Or you could take a few minutes and make a batch of Union Square-Inspired Spiced Nuts that would have people asking, "What is that flavor?" and "Can I have the recipe?"
We've been making these nuts ever since the Union Square Café Cookbook came out in 1994, and we've roasted hundreds, if not thousands, of pounds of them. Over the years we've tried changing up the recipe, but it just doesn't get any better than the recipe below.
Making Spiced Nuts Planetarian
The only change we've made for this Planetarian Life version from our original is the mere 4 teaspoons of plant butter instead of dairy butter. It could be my imagination, but I believe the rosemary sticks to the nuts slightly better with the plant butter.
Double Roasted
These nuts have got everything you're looking for—salt, heat, sweet, crunch, and interest. You may question why we call for roasted salted nuts and then we instruct to roast and salt them again. We believe that second roasting heightens flavor, and same goes for that extra little bit salt.
Buy in Bulk
If you don't shop at Costco or other big box stores where they sell a 2 1/2-pound size container of premium roasted salted nuts, buy bulk roasted salted nuts and create your own mix. You can halve the recipe and roast them in a 13- by 9-inch rimmed baking sheet, but why would you? If you're like us, we eat them so regularly—and give them away too—that it doesn't make sense to make them in smaller quantity. If you like to give food gifts, Union Square-Inspired Nuts will immediately become your new favorite.
Festive Plant-Based Appetizer Board
This makes a great addition to Planetarian's Festive Plant-Based Appetizer Board. We load the board up with Festive Beet Hummus, Mushroom Paté, Smoky, Zesty Kale-White Bean Dip, Planetarian "Cheese" Ball with Cranberries and Walnuts, Union Square-Inspired Rosemary Spiced Nuts, and Jumbo Homemade Crackers. Then we fill out the rest of the board with classic paté accompaniments—pickled onions and cornichons—crowd pleasing crudité, olives, peppadew peppers, and dried fruit.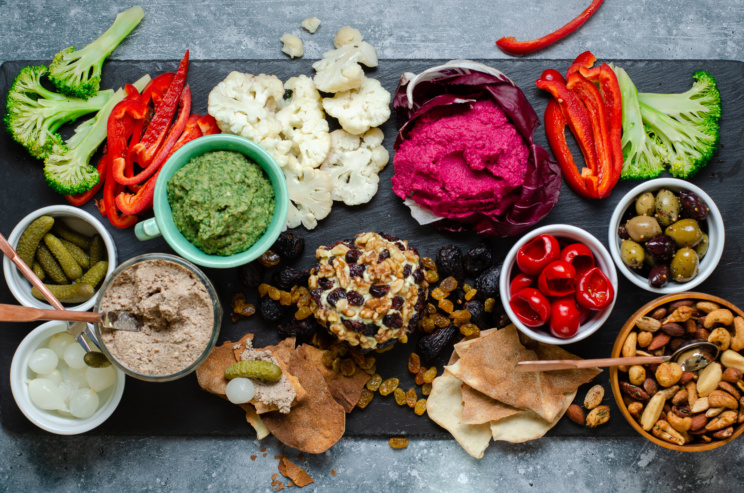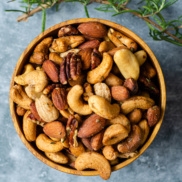 Union Square-Inspired Rosemary Spiced Nuts
Recipe Notes
Ingredients
1

Costco-size container

(40 ounces) or 2 1/2 pounds premium roasted, salted mixed nuts

4

teaspoons

plant-based butter

1/4

cup

minced fresh rosemary

4

teaspoons

packed dark brown sugar

1

teaspoon

cayenne pepper

1

teaspoon

kosher salt
Instructions
Adjust oven rack to middle position and heat oven to 350 degrees. Spread nuts on an 18- by 12-inch rimmed baking sheet. Roast until fragrant and slightly darker in color, 12 to 15 minutes.

Meanwhile, microwave butter in a small bowl until melted; stir in rosemary, sugar, cayenne, and salt. Pour roasted nuts in a large bowl. Immediately add rosemary mixture and use a rubber spatula to make sure herb paste completely coats the nuts. Pour nuts back onto the cookie sheet and cool. Serve warm or at room temperature. (Can be stored in an airtight container up to 1 month.)