There's hummus, and then there's festive hummus. This stunning magenta-tinted beet hummus is perfect for the winter and spring holidays.
We think this eye-catching beet-infused spread anchors an appetizer spread, but you know your crowd. Would beet hummus draw them in or scare some off? If it's the latter, why not offer hummus two ways?
Start by making this hummus, leaving out the beets, and pulling off half. Return the remaining half to the food processor and then blend in just one beet. This way you've got regular hummus for the culinary shy and beet hummus for the more adventurous.
How to Make Beet Hummus
Don't think you've got time to roast beets and make this hummus? Your store probably carries beets that are pre-cooked. Grab some of those and store-gout hummus. Just dump a 17-ounce container into the food processor, along with one beet and half the dill and process. Once the beet is fully incorporated, taste the hummus. You may want to deepen the color with an extra beet; freshen the flavor with a little more dill or some grated lemon zest; or bump up the flavors with lemon juice or a pinch of cayenne. It's up to you.
How to Serve
We think Festive Beet Hummus is especially right for spring and for the winter holidays. Besides pita bread or chips (or Homemade Jumbo Crackers!) what to serve with this jewel-toned spread? Set out seasonal crudité. For winter, particularly for the holidays, go red, white, and green with bell pepper strips and raw or lightly steamed broccoli and cauliflower florets. In spring, set out carrot sticks, thin fennel wedges, and raw or lightly steamed asparagus, snow or sugar snap peas. There's no reason you can't serve this colorful spread in the summer with lightly steamed green beans, cucumber wedges, and baby new potatoes
You can plop this spectacular spread in a bowl, but for an especially beautiful presentation, why not take a little extra effort to halve and core a head of radicchio, peeling off a few layers and creating a natural cup?
Festive Plant-Based Appetizer Board
This makes a great addition to Planetarian's Festive Plant-Based Appetizer Board. We load the board up with Festive Beet Hummus, Mushroom Paté, Smoky, Zesty Kale-White Bean Dip, Planetarian "Cheese" Ball with Cranberries and Walnuts, Union Square-Inspired Rosemary Spiced Nuts, and Jumbo Homemade Crackers. Then we fill out the rest of the board with classic paté accompaniments—pickled onions and cornichons—crowd pleasing crudité, olives, peppadew peppers, and dried fruit.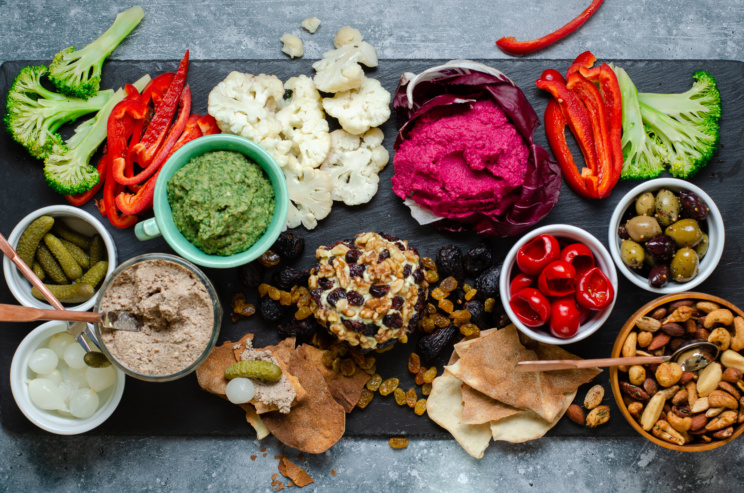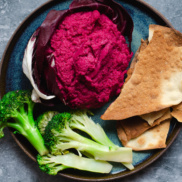 Festive Beet Hummus
Recipe Notes
Ingredients
3

medium cloves

garlic

2

medium

roasted beets,

cut into medium dice

2

cans (15-16 oz each)

chickpeas, drained (about 3 cups)

6

tablespoons

juice and 1 1/2 teaspoons finely grated zest from 2 to 3 lemons

3

tablespoons

tahini

2

tablespoons

chopped fresh dill

1 1/2

teaspoons

ground cumin

1/4

teaspoon

cayenne pepper

Salt and ground black pepper
Instructions
Mince garlic in a food processor. Add remaining ingredients, including a couple of big pinches of salt and several grinds of pepper; process until smooth, about a minute, adding a couple of tablespoons of water if hummus is too thick. Taste and adjust seasonings. Turn into a covered container and refrigerate until ready to use. (Can be refrigerated for at least a week.)