Me? Take time to make homemade crackers? Well, it's not an everyday activity, but it doesn't take long, and it's such a fun way—especially at holiday time—to make a splash.
Homemade Crackers are Easier Than You Think
If you've never made crackers, you'll be pleasantly surprised at how simple it is. Your first task is to preheat your oven to 500 degrees, because you'll have the dough made and rolled out before the oven's even come to temperature. Next, mix the flour and salt in a food processor. Mix a little water and a tiny bit of oil, add it to the flour and salt, and process it until it more or less comes into little dough balls that stick into one big ball when pressed together.  Divide the big ball into eight small pieces and press each piece into a flat circle.
If you've never rolled dough, you might shy away from the next step, but how cool it is that you're trying something new? The great thing about these crackers is that it doesn't matter what they look like. In fact, the more irregular, the more beautiful and interesting they are. Just make sure you roll them out to a more or less 6-inch circumference. Rolled to this size, they will all fit on two large (12- by 18-inch) rimmed cookie sheets. They bake quickly–eight minutes, nine max.
Same Dough for Flatbread Pizza
This dough can also be used to make quick flatbread pizzas. Cut the dough into four pieces rather than eight, and then roll them into an approximate 12- by 4-inch rectangle for you own personal flatbread pizza. Top the dough rectangles as you like, and then bake them, same as the crackers, at 500 degrees.
What Flours Can be Used
If you like, you can make these crackers with bread flour, white whole wheat flour, as well as equal parts whole wheat and all-purpose, but you will likely need slightly more water to get the dough to come together. If the dough is too stiff (hard clay texture), process in another couple of teaspoons of water.
Making it Gluten Free
These crackers turned out perfectly for our gluten-free recipe tester. She used Cup4Cup flour. The key is to not over mix the dough. Pulse it in the food processor until it just comes together and no more. Work quickly because the flour can get gummy and tough quickly.
Festive Plant-Based Appetizer Board
This makes a great addition to Planetarian's Festive Plant-Based Appetizer Board. We load the board up with Festive Beet Hummus, Mushroom Paté, Smoky, Zesty Kale-White Bean Dip, Planetarian "Cheese" Ball with Cranberries and Walnuts, Union Square-Inspired Rosemary Spiced Nuts, and Jumbo Homemade Crackers. Then we fill out the rest of the board with classic paté accompaniments—pickled onions and cornichons—crowd pleasing crudité, olives, peppadew peppers, and dried fruit.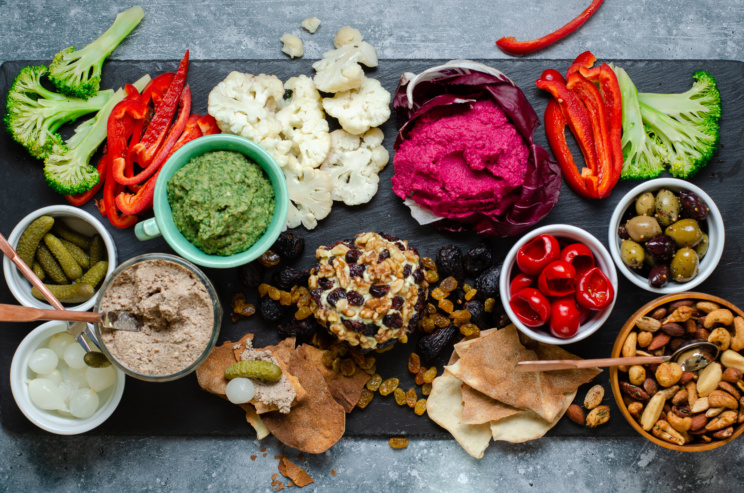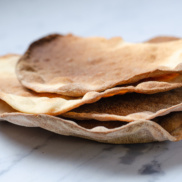 Jumbo Homemade Crackers
Recipe Notes
Makes 8 large crackers, serving 8
Ingredients
1

cup

unbleached all-purpose flour,

plus extra for dusting

1/2

teaspoon

salt

1/3

cup

warm water

1

teaspoon

extra-virgin olive oil
Instructions
Adjust oven rack to lower- and upper-middle positions and heat oven to 500 degrees. Mix flour and salt in a food processor. Mix water and oil and pour over flour mixture; process to form soft dough that comes together when pressed, 15 to 20 seconds. If dough is too stiff (hard clay texture), process in another teaspoon of water. With floured hands, turn dough onto a lightly floured surface and cut into eighths. Working one at a time, press each piece of dough into a round disc and roll to a rough 6-inch round, coating with flour and turning as necessary to keep it from sticking. Transfer to a large parchment- or silpat-lined cookie sheet. (All 8 crackers should fit on 2 baking sheets.)

Bake—keep your eye on them—until crisp and spotty golden brown, 8 to 9 minutes. Remove from oven and cool to room temperature. Wrap in foil or store in a large tin. (Can be stored at room temperature for several weeks.)