Cooking is easier if you have the right kitchen tools and equipment, but we take a minimalist approach. You won't need an Instant Pot, Air Fryer, or slow cooker to make Capsule Kitchen recipes. You need far less than you think to produce great food. Here's a list of equipment you probably already have, along with suggestions for a few other things you might consider. Below you'll find a bit more information on why these tools, gadgets, and pieces made the cut.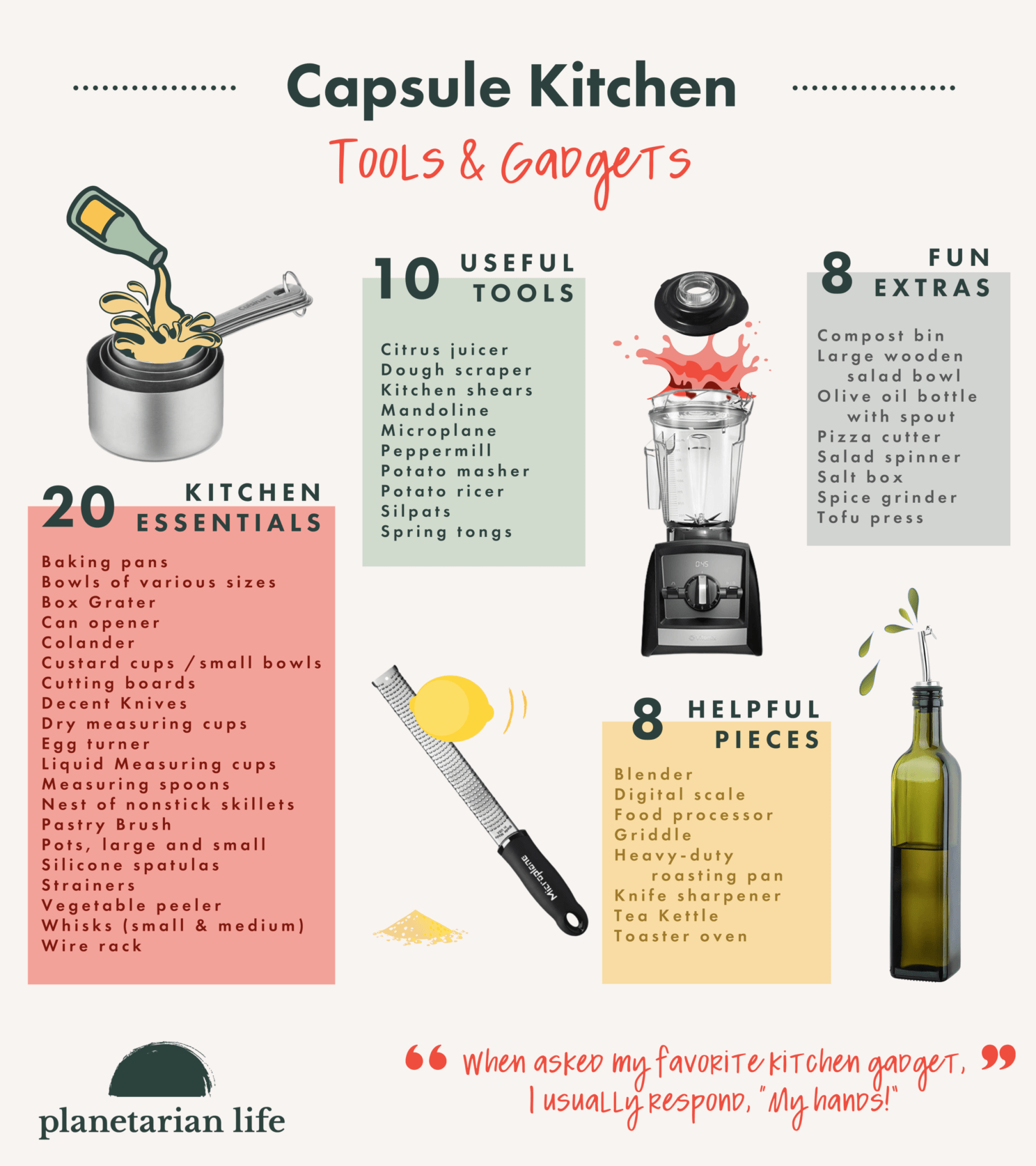 Twenty Essential Kitchen Items
(You Likely Have):
Baking Pans—Rimmed baking sheets (aka half sheet pans), 13 x 9-inch pan, 8-inch and 9-inch square and round pans. Depending on the task, you need a variety of baking pans. Rimmed baking sheets are perfect for roasting large quantities of vegetables and sheet pan dinners. You need 13 x 9-inch pans for casseroles. The smaller square and round varieties are ideal for pot pies and tasks like roasting small quantities of nuts.
Bowls of various sizes and materials. Consider a nest of three metals bowls of varying sizes. For the times your mixture needs microwaving, have some glass ones too.
Box Grater—for grating small quantities of ingredients like potatoes, cucumbers, carrots, and cheese. It's also good for when you want citrus zest and cheese more coarsely grated than with a microplane.
Can opener—Planetarian Life recipes call for lots of canned beans, tomatoes, coconut milk, and more. If yours struggles, get a decent one.
Colander—If you have a standard kitchen sink, a handled one that rests on the sink ledge simplifies draining. Whatever you have, make sure it's large enough to hold a pound of cooked pasta or beans.
Custard cups and/or other small bowls—Among their many uses, they're handy for measuring out small quantities of ingredients.
Cutting boards—Keep a variety of plastic and wood, including a small plastic one reserved exclusively for garlic smashing and mincing.
Decent knives—You only really need three—a chef's knife, a paring knife, and a serrated knife.
Dry measuring cups (full set)—There are the obvious measurements—1/4, 1/3, 1/2, and 1 cup—but look for sets that come with 2/3 and 3/4 cup too. (Using a single cup to measure, instead of having to pull out and wash two, saves time.) If you make Daily Bread or bake a lot, consider purchasing a 2-cup dry measuring cup, which means less dipping and sweeping.
Egg Turner—For thirty years, I owned a thin-bladed spatula, which I adored. Eventually, it broke. I spent a lot of time trying to find the right replacement, but it was like the Three Bears. Some were too thick to get underneath a patty or a pancake, others were so thin they'd collapsed under the weight of whatever was being flipped. As of late, I'm sold on the fish spatula. It's sturdy, yet thin. In other words, just right.
Liquid measuring cups (1-cup, 2-cup, 1-quart, 2-quart) Many cooks mistakenly measure dry ingredients in liquid measuring cups and wet ingredients in dry measuring cups, which results in inaccurate measurements. Make sure you have both sets. As for liquid measuring cups, get one in each size. You'll quickly see how it simplifies cooking. And don't forget to purchase the 1/4-cup size. Measuring small quantities of ingredients like of oil, vanilla extract, and vinegar, you'll be surprised how often you use it.
Measuring spoons (full set)—As with measuring cups, there are the obvious 1/8, 1/4, 1/2, 1 teaspoon, and 1 tablespoon. If you bake a lot, consider adding a 2-teaspoon measuring spoon (the salt and yeast quantities in Daily Bread). You'd also be surprised at how often a 2-tablespoon measuring spoon comes in handy.
Nest of nonstick skillets (8-inch, 10-inch, 12-inch)—Depending on how many you're cooking for, you need all three sizes—for steam-sautéing, skillet dinners, and frying plant burgers and patties.
Pastry Brush—For applying oil to vegetables before grilling and washes on pastry.
Pots, large and small—Pots and pans are a little like cars. You can purchase an economy set, and it'll work just fine, or you can buy jaguar-quality. The latter may look nicer and make life a little easier, but a good cook will adjust and figure out how to churn out great meals with the pots and pans they have.
That said,  if you can afford them, consider purchasing a few Le Creuset pots. (At any given time, you can find them for sale on Facebook Marketplace and other online sites. And of course, there are the Le Creuset outlets that sell their products at a reduced price.) For simmering soups and pasta we like size 26 and/or 28. One of our favorites is the Le Creuset risotto pan (size 30), which is shallower and wider than the standard Dutch oven, allowing you to sauté vegetables and reduce dishes like A Vat of Tomato Sauce more quickly. Instead of saucepans, we often use the small Le Creuset Dutch Ovens (size 22).
Silicone spatulas—I still have a few rubber spatulas, but it's the silicone ones I reach for nearly every time. They're sturdy enough to stir and fold, yet pliable enough to scrape every last bit from a pot or bowl.
Strainers—When a colander is too big for the job. Buy ones that fit inside liquid measuring cups, which are especially useful when you want to save the liquid.
Vegetable peeler—everyone has their favorite, but I'm partial to the U-shaped style.
Whisks—Get two—one small, one medium/large—which is all you should need.
Wire rack—Whether it's cooling bread, muffins, or Planetarian patties, wire racks keep things from steaming as they cool. Look for the grid-style for even weight distribution.
Ten Useful Gadgets
Citrus juicer—This little gadget should be listed as an essential. You can hand-squeeze or use a fork to perform the task, but between citrus-based dressings and the flavor heightening role of lemons and limes in Planetarian cooking, you'll be happy you have a juicer.
Dough scraper—There was a time when I only used a dough scraper for cleaning up dough messes. Now I use it for scraping up just about any kitchen counter mess. It's a great way to gather your vegetable scrapes and general prep mess into a pile for tossing.
Kitchen shears—Although I'd never buy a Cutco knife, I'd never own anything other than Cutco Super Shears. They're expensive, but worth every penny. Ask someone who loves you to get them for your birthday.
Mandoline—Here's a gadget I didn't think I needed until Maggy bought it for me a couple of Christmases ago. With all of the many pickled and caramelized onions, slaws, and potato gratins I make, this gadget is a huge timesaver.
Microplane—Not sure how we lived without this useful gadget for so long. For finely grated citrus zests, ginger, hard cheeses, garlic, it is one of the cook's best friends. There's no way to sharpen a microplane, so if you use yours as often as I use mine, you may need to replace it every few years.
Peppermill—Someone gave me a Unicorn peppermill over twenty years ago. I've owned a few others, but this one is by far the best.
Potato masher—For mash-'em-right-in-the-pot potatoes and other vegetables, this is your tool.
Potato ricer—This gadget has many uses, but even if you only use it for squeezing water from the potatoes and zucchini for fritters and cakes, it's worth the twenty dollar price tag.
Spring-action tongs—When asked my favorite kitchen gadget, I usually respond, "My hands!" When I can't use my hands, spring-action tongs are the next best thing. From tossing salad, flipping patties, stirring pasta, this gadget is multi-purpose. To keep them from get tangled in the drawer, buy the variety that locks shut. You also might want a long one and one short one.
Silpats—You can cut parchment paper to fit every time you need to line a baking sheet. Or save time, paper, and vegetable cooking spray by investing in a pair of silpats. No sticking—ever. Guaranteed.
Eight Helpful Pieces of Equipment
Blender—You need a blender for pureeing soups, sauces, vinaigrettes, and smoothies. A food processor works too, but it doesn't deliver the silky-smooth texture you get with the blender. If you can only afford one of the two machines, opt for the blender, which is far less expensive.
Food processor—If you spend a lot of time in the kitchen, you're ultimately going to want a food processor. While it doesn't puree as well as blender, it does a decent job, plus it chops, grates, kneads, and blends superbly, especially prepping large quantities for batch cooking. I make Effortless Homemade Bread at least twice a week, which kneads in just thirty seconds. Without a food processor, I wouldn't make bread as often. Just one of the many reasons I wouldn't give mine up.
Toaster oven—This is one piece of equipment I allow to litter my counter. You're wasting time and energy heating an entire oven— for four baked potatoes, a couple of cups of nuts, or a single loaf of bread—when a toaster oven preheats in just a few minutes.
Scale—Here's another essential. Since many of the Planetarian formulas are based on vegetable weights, you need a scale. A simple digital one that toggles between pounds and metrics is ideal.
Heavy-duty roasting pan—A roasting pan has many uses beyond simply cooking a turkey once a year. With is a large surface area, it's great for searing and sautéing. Simply set it over two burners and fire it up. No more cooking in batches, which saves precious time.
Griddle— This is ideal for cooking Planetarian patties, burgers, and cakes. Without the tight quarters of a skillet to constrain, you can flip burgers and pancakes with ease. When cooking as few as four burgers, pull out your griddle.
Tea Kettle—At our house we drink a lot of tea and French-press coffee, but a good tea kettle heats water so much faster than stovetop, I use it anytime I need boiled water quickly, like when making Quick Pickled Pink Onions, for example. When you need boiling pasta water quickly, start a small quantity of water in a big pot and heat the remainder in a tea kettle, adding it to the pot when it boils.
Knife sharpener—Dull knives are ineffective and downright dangerous, and a decent, easy-to-use knife sharpener isn't that expensive.
Stand mixer—We're not big cake bakers, but we use our stand mixer at least a couple of weekends a month for rolling and cutting fresh pasta.
Eight Other Fun Kitchen Pieces
Large wooden salad bowl—We use our wooden bowl, and we think everyone should own one. (It's become our signature wedding gift.) Not only is this bowl great for tossing salads, big and small, its big, wide surface makes it perfect for massaging kale
Salad spinner—These days I buy more kale and escarole than pre-washed baby greens. A salad spinner is the quickest, most effective way to wash and dry greens that need a quick rinse.
Salt box—There was a time when we all used iodized salt. Now most of us keep at least two salts around. A salt box is a tidy way to store and keep salt dry.
Olive oil bottle with spout—If you buy big jugs of olive oil, the container sitting on the counter is an eyesore. Plus, it's awkward to handle and easy to overpour. Better to keep two small bottles with pourer spouts on your counter—one in your prep area and another at the stove.
Tofu press—After years of awkwardly draining blocks of tofu with paper towels and canned goods for weights, we finally invested in a tofu press. It's fast, simple, tidy. #nevergoingback
Pizza cutter—If you make pizza a lot, you need one of these. Period.
Spice grinder—Planetarian recipes frequently rely on spice blends to boost flavor. You may just need one of these. (And unless you like cumin-flavored coffee, don't think you can borrow your coffee grinder for the job.)
Compost bin—Composting is very Planetarian, and it was a happy day when we started doing it. Even if you don't have a use for it, check your city or town for compost collection sites.