It's rare I don't have a jar of Quick Pickled Pink Onions in my fridge. Not only do pickled onions beautify a dish, they taste better than raw onion too. Plus, it's great to just reach in the fridge and grab the jar of pickled onions instead starting from scratch peeling and slicing a raw one.
How to make Pickled Pink Onions
If I didn't own a mandolin, I'd still make Pickled Pink Onions, but since I do, it makes the task so much easier. To make Pickled Pink Onions, start by putting on a pot of boiling water. For me that means filling my tea kettle with water and heating it. While the water comes to boil, peel the onions, thinly and evenly slice them with the mandolin, and place them in a large bowl. When the water boils, pour it over the onions and let them sit for fifteen seconds. For me that's about the time it takes to rout out my colander from the cabinet and set it in the sink. Then I dump in the onions and let them drain.
You don't want to cook the onions, you just want simply to blanch them, or briefly immerse them in the scalding water to tame their harsh flavor and soften their texture to tender-crisp.
You can follow the recipe or feel it out
We've given you specific salt and vinegar measurements, but at this point, we start pouring mild, sweet rice wine vinegar over the hot onions to stop the cooking and pleasantly pickle them. You only need enough vinegar to submerge them in a jar, so use less vinegar than you think. You can add extra, if needed, once they are in the jar. After giving them a couple of pinches of salt, put them in a jar where they live until you need them, which we think will be often.
Pickled onion's partners
We love Pickled Pink Onions on salads, tacos, and sandwiches. They perk up beans on toast and enliven our little appetizer nibbles. Did I mention how nice it is to simply have an ingredient like this on hand? When would you ever make pickled onions specifically for any one dish, and yet what a gift to reach in the fridge and they're there.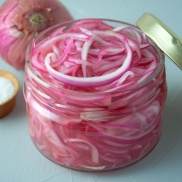 Quick Pickled Pink Onions
Recipe Notes
Ingredients
2

large

red onions,

peeled, halved, and sliced thin

1 1/2

cups

rice wine vinegar

(1 cup is about 8 oz)

2

teaspoons

kosher salt
Instructions
While preparing onions, bring 6 cups of water to boil. Place onions in a medium bowl and pour boiling water over them. Let stand 15 seconds and then drain. Return onions to bowl and pour vinegar over them; season with salt. Store in a jar. (Can be refrigerated several weeks).