A few years ago, Maggy found a recipe entitled Crispy Fried Tofu Sandwich in the New York Times and suggested we give it a try. I took one look at the ingredient list and rolled my eyes at the twenty-one-ingredient list and the tedious instructions, including a pre-fry before marinating and a second fry after two coats each in thinned Dijon mustard and flour. Nevertheless, I rolled up my sleeves and got to work. Despite the recipe's tedious steps and messy process, we all agreed that it was a pretty damn good fried "chicken" sandwich.
Is the Ultimate Fried "Chicken" Sandwich Worth The Hassle?
But the fact is, despite our love, I've never made that sandwich again, which leads to the question: What's the point of an ultimate recipe if you don't want to make it again?
We at Planetarian Life love a good fried chicken sandwich. We wanted to develop a version that we would actually make.
Planetarian "Chicken"
A few months ago, we discovered that super-firm tofu, flavored, floured, dipped, and breadcrumbed is a great stand-in for a chicken cutlet. So, we were already pretty close to developing Planetarian fried "chicken" for a sandwich.
In fact, with just a few tweaks, our Planetarian "Chicken" Cutlet, became "chicken" for our sandwich. We liked how the dill pickle marinade from the New York Times recipe added subtle flavor, so we kept that. Even so we were able to reduce the number of their marinade ingredients from five to two.
We switched from canned chickpea cooking liquid (aquafaba) as the dipping ingredient we used between the flour and panko dredges to the thinned Dijon mustard called for in the New York Times recipe. One final change—we thought our cutlet was a little thick for a sandwich, so we sliced the tofu block into four slabs instead of three.
The Finishing Touches
Throw in a decent bun, slather it with a little vegan mayo, give it a few shakes of hot sauce, top it with few pickles, and you've got a sandwich that we love…and actually want to make.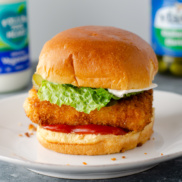 Planetarian Fried "Chicken" Sandwich
Total time:
4
hrs
15
mins
Recipe Notes
If you can't find super-firm tofu, extra-firm tofu offers a decent substitute. Press as much water as you can from the block, then halve it lengthwise and crosswise to make 4 cutlets.
All-Purpose Spice Rub is a Planetarian Life Essential—good to keep in your pantry. You can make it quickly by mixing 6 tablespoons each: brown sugar and smoked paprika, 3 tablespoons each: ground black pepper and garlic powder, and 1 1/2 teaspoons fine salt. Use the rest for recipes like Barbecued Cauliflower or Roasted Riced Cauliflower that you use to make Cauliflower Bolognese.
Ingredients
1

pound

super-firm tofu,

patted dry and cut into four 1/2-inch thick slabs

¾

cup

dill pickle juice,

plus dill pickle slices for the sandwich

1

cup plus 2 tablespoons

neutral oil, such as peanut, grapeseed or vegetable

2

tablespoons

All-Purpose Spice Rub

(see above)

1/4

cup

Dijon mustard thinned with scant 1/4 cup water

1/4

cup

all-purpose flour

3/4

cup

panko

Sandwich buns, vegan mayonnaise, hot sauce, lettuce leaves for serving
Instructions
Marinate tofu slices in pickle juice and 2 tablespoons of the oil for at least 4 hours or overnight.

When ready to fry, heat oil in a large (12-inch) skillet over low heat while preparing cutlets. Remove tofu from pickle juice, pat dry, and place on a small, rimmed baking sheet. Sprinkle both sides of each slab with spice rub and, working one at a time, dredge in flour, dip in thinned Dijon, and dredge in panko, shaking the flour and panko pans as you dredge to help coat them.

Increase oil to medium-high. When a pinch of panko dropped into the hot oil sizzles immediately, you are ready to fry. Add cutlets to hot oil and cook, turning only once, until golden brown on each side, about 6 minutes total.

Spread each bun, toasted or not, with mayonnaise and top with lettuce, cutlet, pickle slices, and a few shakes of hot sauce, if desired. Serve.