You can buy riced cauliflower frozen, and we use it a lot—especially for our Alfredo. You can also buy it in kryovac packaging—we find it a little mushy. But the riced cauliflower you season and roast yourself is especially satisfying. You can use a whole cauliflower to make Roasted Riced Cauliflower, but we prefer buying two heads of cauliflower and using the two center cuts from each head to make four cauliflower "steaks" for roasting. We use the remaining cauliflower lobes cut from either side of the cores to make Roasted Riced Cauliflower. Another example of how we get two very different meals from one main ingredient.
Ricing the Cauliflower
As you slice off those the lobes, cauliflower florets in various sizes fall from the head. At this point you have two choices. You can hand chop the florets into rice size pieces. Or, you can cut the florets into more or less uniform medium-size pieces, and pulse them into the food processor. You want a riced consistency,  which happens quickly—just a few pulses will do it.  If there are any stray large pieces, pull them out and hand chop them. Otherwise, you'll over chop the bulk of the cauliflower trying to get those few pieces to conform.
Roasting Riced Cauliflower and Cauli Steaks
At this point, the oven should be preheating to a blistering 500 degrees F. You'll need that high temperature to "sear" the cauliflower steaks and color the riced cauliflower. Remember that color translates into flavor!
Dump or transfer the riced cauliflower to a large, rimmed baking sheet. If you're not sure how you want to use the roasted cauliflower, drizzle it with olive oil and sprinkle it with a little All-Purpose Spice Rub if you've got it. (It only takes a few minutes to make if you don't have it already.) And if you're in a hurry, simply sprinkle it with salt, pepper, and a little paprika for color.
If you're making it for Roasted Cauliflower Bolognese, make sure to season it with ground fennel (or fennel seeds you chop yourself). The fennel flavor really gives the sauce a meaty flavor we think is worth it. And if you're making it for tacos, sprinkle it with a little extra chili powder.
Now it's ready for the oven. At 500 degrees, it doesn't take long roast. In about 20 minutes you've got a panful of flavorful riced cauliflower you can use to make Roasted Cauliflower Bolognese, fill tacos, or toss into salads or soups.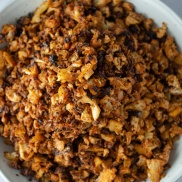 Roasted Riced Cauliflower
Recipe Notes
*You can use a whole head of cauliflower to make this recipe, but if you make Roasted Cauliflower Steaks, you'll have the 8 cups you need to make this recipe, and since they both cook at the same temperature, it makes sense to roast them at the same time. Of course, using frozen riced cauliflower is super simple.
Ingredients
8

cups

chopped fresh cauliflower from 1 head* or 2 pounds frozen riced cauliflower,

microwaved until thawed enough to break up into bits

1/4

cup

olive oil

2

tablespoons

All-Purpose Spice Rub

(Or substitute 1 tablespoon of paprika, and 1 tablespoon of chili powder)

Option: 2 teaspoons chopped fennel seeds if making cauliflower bolognese
Instructions
Adjust oven rack to lowest position and heat oven to 500 degrees Spray a large (18- by 12-inch) rimmed baking sheet with vegetable cooking spray. Add cauliflower, olive oil, and spices; toss to coat. Place in the oven and roast until cauliflower is cooked through and impressively colored, about 20 minutes for fresh cauliflower and 25 minutes for frozen.