When it comes to Bolognese, I've come a long way, Baby! I first fell in love with this wonderfully rich, creamy classic Italian sauce back in the 1990's. To get that tender, succulent meat-melds-with-the sauce texture, you needed what was referred to as "meatloaf mix" or equal parts ground pork, veal, and beef. It took hours to make, starting with a mirepoix of celery, carrots and onions, followed by a little prosciutto. You added white wine and cooked it down, and then milk and cooked that down. Finally, you added the tomatoes, which simmered for ages, and when all the ingredients had melded into a rich meaty sauce, you finished it with heavy cream. Cooked well, Spaghetti Bolognese topped my comfort food short-list.
Ditching the Red Meat
In 2000, when young Maggy declared herself a vegetarian, she and I ultimately compromised. If she would eat poultry and fish, I would drop beef, lamb, and pork, and for over a decade, classic Bolognese became Turkey Bolognese in the Anderson household.
Cauliflower Bolognese was Born
In 2020, Planetarian Life was conceived, and it was time, once again, to revisit my beloved Bolognese. In developing a recipe for Cauliflower Steaks, I realized I could only cut two slabs from each head of cauliflower. What to do with all of the leftover cauliflower? I chopped into rice texture, sprinkled it with a little All-Purpose Spice Rub to which I added a little ground fennel, roasted it until golden spotty brown, and stirred it into a quart of Simple Tomato Sauce made with celery, carrots, and onions. Between the flavorful cauliflower bits and the fennel scent and flavor, you'd swear there was Italian sausage in the sauce. Instead of heavy cream, I finished the sauce with coconut milk. It was everything I needed it to be—rich, creamy, comforting. And now, this is my new Bolognese. It's not the original, but in some ways it's better because I know it's better for the planet and me.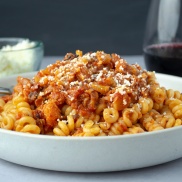 Roasted Cauliflower Bolognese
Recipe Notes
Makes 1½ quarts of sauce, or enough for 1 pound of pasta serving 4 to 6.
We have made several versions of meatless Bolognese and this is our newest and easiest weeknight favorite. It's especially popular with the little ones. To serve, toss the pasta with some of the sauce, then ladle remaining sauce over each portion and sprinkle with a little grated Parmesan cheese if you like. There are two versions of A Vat of Simple Tomato Sauce—one is garlic flavored, the other is made with celery, carrots, and onions. You can use either, but the latter is most like Bolognese.