If you made corn chowder from scratch, you would likely spend a minimum of forty minutes. By making the Cream-Style Corn base ahead, you can have Simple Corn Chowder on the table in about fifteen minutes.
And how many from-scratch meals can you make in fifteen minutes? Yet, that's about how much time most of us can actually spare for dinner preparation. Maybe that is why we so often resort to convenience food and take out. There just isn't time to start from scratch for dinner every night.
Corn Chowder in 15 Minutes
The Cream-Style Corn is already flavored with scallions and red pepper so making it into chowder is easy! Just cook diced potatoes in Maryland-style seasoning (aka Old Bay) and broth. Cooking the potatoes in such a small amount of broth means they boil quickly, and when they do, the potatoes are practically done. Just five more minutes of simmering, and it's time to add the creamed corn. When the creamed corn heats through, the chowder is done! Stir in the remaining scallion greens from the Cream-Style Corn recipe, chopped cilantro or basil, and you're ready to ladle it up.
Use what ingredients you have on hand
Use whatever broth you have, and although the recipe calls for baby potatoes, don't let that stop you from making this soup with red boiling potatoes or even the starchier baking potatoes. The key is the cut. You'll want the potatoes diced relatively small so that they cook quickly. This is a simple recipe with very few ingredients, which makes each one important—especially the Old Bay. If you don't have fresh basil or cilantro, add a teaspoon or so of dried basil, along with the Old Bay.
Make it Any Season
Make this Chowder in late summer with fresh corn or enjoy it's creamy, stick-to-your-ribs warmth during the cooler months, made with frozen corn.
Simple Corn Chowder is really a meal in a bowl, but you can add a green salad and a loaf of warm bread, to make it a weeknight feast.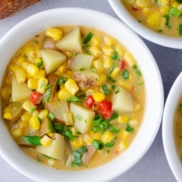 Simple Corn Chowder
Recipe Notes
For some zing, squeeze a little lime juice into the pot.
Ingredients
2

cups

vegetable broth

12

ounces (about 3 cups)

baby potatoes,

cut into small dice

2

teaspoons

Maryland-style seasoning,

such as Old Bay

1/2

recipe (about 4 cups)

Cream-Style Corn

1/2

cup

thinly sliced scallion greens left from Cream-Style Corn

1/4

cup

chopped fresh basil or cilantro
Instructions
Bring broth, potatoes, and Old Bay to simmer over medium-high heat; cook until potatoes are tender, about 5 minutes. Add Cream-Style Corn; bring to a simmer. Stir in scallions and basil. Serve.