Sheet pan dinners are popular because they're a super easy, relatively hands-off way to get dinner on the table. Most people prefer sheet pan dinners that have fish, poultry, or meat that cooks in the same amount of time as the sides. The challenge with plant-rich sheet-pan cooking is you don't have that piece of fish, chicken part, or cut of meat to anchor the meal. But, we've done some research and testing to come up with some very tasty options. Our Sheet Pan Chimichurri Portabella Dinner leaves nothing to be desired and is every bit as easy and hands-off as any sheet pan dinner.
Our sheet pan dinners are not formulaic, but here's what they do have in common. First, it's all about getting the dinner in and out of the oven as quickly as possible. So, the roasting temperature is a super-charged 500-degree oven. At this temperature, you can cook much of the meal in about twenty minutes. Some ingredients like green vegetables will cook in about ten minutes. Others—like potatoes and onions—take about ten minutes longer to caramelize and brown.
In this Sheet Pan Chimichurri Portabella Dinner, we roast portabella mushrooms, potatoes and onions, and Brussels sprouts. As with most vegetables, the portabellas will be done in 20 minutes, so take them out of the oven. In their place, we add halved Brussels sprouts, which are fully cooked in about 10 minutes, which gives the potatoes and onions extra time to not just cook, but to turn wonderfully caramel brown.
Why Portabellas
Here we're playing off Brazilian beef, often served with a piquant chimichurri drizzle to cut the richness. In this recipe, we sub in meaty portabella mushrooms for the steak. Then we round out the meal with a mix of roasted potatoes and onions and seasonal Brussels sprouts. Instead of serving it with a chimichurri sauce, we simply drizzle the flavorings on each component up front so that it absorbs the flavorings as it roasts. Feel free to use broccoli florets in place of the Brussels sprouts, and if it's spring, consider asparagus. Green beans are perfect for summer. Whatever you use, the green vegetable is added after the mushrooms come off and roasted for ten minutes.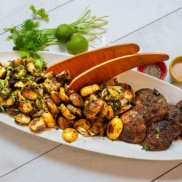 Sheet Pan Chimichurri Portabella Dinner
Recipe Notes
Ingredients
6

medium-large

portabella mushrooms

7

tablespoons

olive oil,

divided

Salt and ground black pepper

1 to 1 1/2

pounds

baby potatoes,

halved

1

large

onion,

cut into large dice

1

pound

Brussels sprouts,

halved

6

tablespoons

lime juice

1

tablespoon

each: dried thyme and oregano leaves and ground cumin

2

teaspoons

garlic powder
Instructions
Adjust oven rack to lowest position and heat oven to 500 degrees. Lightly brush mushroom caps with 2 tablespoons of oil, sprinkle with salt and pepper, and lay them, cap side up along the long side on a large (12- by 18-inch) rimmed baking sheet. Toss potatoes and onions with 1 tablespoon of oil and a sprinkling of salt and pepper. Add to baking sheet. Toss Brussels sprouts with 1 tablespoon of oil and a sprinkling of salt and pepper; set aside.

Mix remaining 3 tablespoons olive oil along with lime juice, thyme, oregano, cumin, and garlic powder in a small bowl; Drizzle about 3/4 of the seasoning over the mushrooms and potatoes. Toss remaining seasoning with Brussels sprouts.

Place baking sheet in oven and roast until mushrooms are impressively brown, about 20 minutes. Remove them from the baking sheet, stir the potatoes, and pour the Brussels sprouts on the empty space. Continue to roast until potatoes and onions are impressively brown and Brussels sprouts are tender-crisp (or to your taste), 10 to 12 minutes longer. Taste, adjust seasonings, and serve.