Discover the delight of Chickpea Chicken Salad with Grapes and Toasted Walnuts a new Variation on our very popular
Chickpea "Chicken" Salad
.
Chickpeas Transformed
Pulse chickpeas in a food processor until it is a mix of finely and coarsely chopped, about 15 pulses.
Crunchy Freshness
Then mix in the crunchy elements like onions, celery, and walnuts. The mayonnaise offers creaminess, the grapes sweetness, while the lemon juice and tarragon add piquancy and extra flavor.
Make it to your taste!
Taste and adjust seasonings, including salt and pepper to taste. Let it stand for a few minutes for the flavors to meld and the moisture to absorb.
Ready To Enjoy!
Serve this delightful creation as a satisfying meal or side dish. It can also be refrigerated in a covered container for a couple of days, providing a convenient and flavorful option for days to come.
A note on serving size
The serving size here isn't for a certain number of people, it's for a quart. Because this is the kind of thing that's really nice to have on hand throughout the week when everyone comes hunting and pecking for a little lunch or a snack. It's also the perfect thing to bring on a picnic as it travels well. Just be sure to make a double recipe if it's for a crowd. Our Planetarian Life Recipe Testers who made it for lunch admitted to eating most of it before lunch rolled around.
How to serve Chickpea "Chicken" Salad
There are so many ways to enjoy this "chicken" salad. You can serve it over a bed of greens or on a roll or bread, but my favorite is to serve it with simple Saltines and some fruit.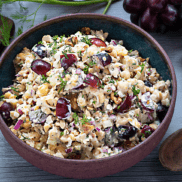 Chickpea Chicken Salad with Grapes and Toasted Walnuts
Recipe Notes
Ingredients
2

cans (15-16 oz. each) chickpeas, drained

1/2

cup

each: diced red onion and celery

1/2

cup

Silken Mayonnaise or other vegan or traditional mayonnaise

1

cup

halved red grapes

3/4

cup

chopped toasted walnuts

2

tablespoons

lemon juice

2

tablespoons

fresh tarragon or 2 teaspoons dried

Salt and ground black pepper
Instructions
Pulse chickpeas in a food processor until it is a mix of finely and coarsely chopped, about 15 pulses. Turn into a medium bowl; Mix in onions, celery, mayonnaise, grapes, walnuts, lemon juice, and tarragon. Taste and adjust seasonings, including salt and pepper to taste. Let stand a few minutes for moisture to absorb. Serve. (Can be refrigerated in a covered container for a couple of days.)