We realize you can buy vegan mayonnaise, but once you try our Silken Mayonnaise, we're betting you may decide to make your own. Not only does Silken Mayonnaise taste as creamy and silky as store bought mayonnaise—both vegan and conventional—its nutritional facts are impressive. 
A tablespoon of vegan mayo packs 8 grams of fat (0.5g saturated, 2.5g polyunsaturated, and 4.5 monosaturated) compared with Silken Mayonnaise's trace fat (0.28). Every tablespoon of Silken Mayonnaise contains 1 gram of protein compared with store-bought vegan mayo's 0 gram. As for calories… compared with store-bought vegan mayonnaise's 70 calories per tablespoon, Silken mayonnaise is a mere 8 calories for the same amount. 
But wait… there's more! Silken Mayonnaise is incredibly simple to make. Remove a 12-ounce block of shelf-stable tofu from its aseptic packaging and plop it into a blender. Add a couple of tablespoons of lemon juice, 1/2 teaspoon of salt, 1 teaspoon of Dijon mustard and hit blend. In seconds, you'll have a respectable size jar of it ready for spreading on bread for tomato sandwiches, stirring into any mayonnaise-based salad. (We think it's fabulous in our Chickpea Chicken Salad,)
When we call for shelf-stable silken tofu in aseptic packaging, we mean it. Silken tofu from the refrigerated case blends up thin textured and odd tasting. 
For now, we've kept this Capsule Kitchen Essential simple, but just as conventional mayonnaise can be flavored in a myriad of ways, so can Silken Mayonnaise. Consider stirring a bit of finely grated raw or smashed roasted garlic into the spread. Try adding a little finely grated citrus zest or some pureed sundried tomatoes or roasted red peppers to Silken Mayonnaise. Of course, you'll never regret tossing in a couple tablespoons of minced fresh herb(s)
For all of the above reasons listed above, give Silken Mayonnaise a try. We think you'll agree that it's pretty impressive stuff!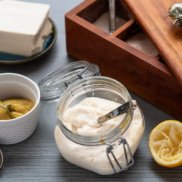 Silken Mayonnaise
Recipe Notes
This amazingly creamy mayonnaise relies on aseptic, shelf-stable silken tofu. We tried both Mori-Nu Plus Fortified Tofu and Mori-Nu Extra-Firm Silken Tofu and both work well. Do not use silken tofu from the refrigerated section. When blended, its texture is thin and its flavor is off.
Ingredients
1

block

(12 .5 oz) silken tofu*

2

tablespoons

juice from 1 lemon

1/2

teaspoon

fine salt

1

teaspoon

Dijon mustard
Instructions
Place all ingredients in a blender and process until silky smooth. Turn into a sealed container

and refrigerate until ready to use. (Can be refrigerated for at least 2 weeks.)