When we talked about developing some fun ice creams for Planetarian Life, we realized that even though making plant-based ice cream is simple, you still need an ice cream freezer, which most people don't have. (And even if you do, it's a project, and therefore something you're not likely to make.) Our challenge was to develop amazing plant-based n'ice creams that didn't require an ice cream freezer.
We didn't have to look far for this Easy Strawberry Ice Cream. In Perfect One-Dish Dinners, Pam had already developed a dairy-based version by blendering sweetened frozen strawberries and heavy cream. For our plant-based version, all we had to do was sub in coconut milk for the heavy cream, and it worked amazingly well. Rather than call for frozen sweetened strawberries (who knows how much and what kind of sweetener they've added), we simply called for agave. Using this liquid sweetener meant we didn't have any issues with undissolved sugar.
Mixing in the agave and vanilla before refrigerating the coconut milk prevents the coconut milk solids from hardening, ensuring a smooth, silky texture. If you like, you can substitute other plant-based milks for the coconut milk, which will yield a less rich ice cream with an even more pronounced strawberry flavor.
Depending on the temperature of the strawberries and the coconut milk, this ice cream may be just right for scooping up straight from the blender, but it will likely need a little chill time. You'll probably have two to four hours to serve it before the ice cream starts to harden, at which point, you can simply soften it in the microwave on the defrost setting. You can also throw it back in the blender with a little plant milk and return to its soft, creamy scoopable state.
Leftover Strawberry N'Ice Cream
If you like, turn leftover Strawberry Ice Cream into a milkshake by blendering any leftovers with enough plant milk to give you a shake consistency.
Other N'Ice Cream Flavors
We also wanted an ice cream kids would love. Dash and Maggy had recently made Dirt Dessert, so Maggy had some Oreos hanging around. With bananas in the freezer, all we needed was peanuts to create a Chunky Monkey version. Not a banana fan, Dash still gave this one two thumbs up.
To complete the quartet, we wanted a plant-based chocolate ice cream, and for this one we went on a search. With the help of Vegan 8, we discovered sweet potato(!) as the base for the creamiest, best chocolate ice cream you'll ever enjoy—dairy or vegan. If you're wondering about the instant coffee in the ingredient list, it enhances the chocolate flavor. If you don't have it, no worries, the ice cream is still amazing without it.
Once blended, all of these ice creams are relatively thick, but you'll want to freeze them a little to bring down the temperature. They'll be in perfect form for the next few hours. And they're great for days, but just know that like regular ice cream, you'll need to let them sit at room temperature to soften a bit… or you can throw them back in the blender and rechurn them.
Healthy Ingredients
One more thing we accomplished that was not part of our original goals. Look at the ingredient lists. These ice creams are downright good for you!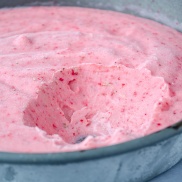 Easy Strawberry N'Ice Cream
Recipe Notes
Ingredients
1

cup

full-fat canned coconut milk, chilled

1/2

cup

agave

1

teaspoons

vanilla extract

Pinch

salt

1

pound

frozen strawberries
Instructions
Mix coconut milk, agave, vanilla, and salt and refrigerate for several hours or overnight.

Puree coconut milk mixture and strawberries in a blender until smooth; turn into a sealed container. (Best eaten within a few hours, but it can be frozen for several days, let sit to soften before scooping.)