When we talked about developing some fun ice creams for Planetarian Life, we realized that even though making plant-based ice cream is simple, you still need an ice cream freezer, which most people don't have. (And even if you do, it's a project, and therefore something you're not likely to make.) Our challenge was to develop amazing plant-based ice creams that didn't require an ice cream freezer. We came up with an easy and delicious chocolate n'ice cream with a healthy secret ingredient!
After much testing and research, we developed three plant-based ice creams—strawberry, pistachio, and chunky monkey. To complete our quartet of plant-based ice creams, we wanted chocolate ice cream too. For this one I went on a search. With the help of Vegan 8, I discovered sweet potato(!) as the base for the creamiest, best chocolate ice cream you'll ever enjoy—dairy or vegan.
Since developing these four plant-based ice creams, I've served them several times. People rave about them all, but they are most impressed with this chocolate one, especially that it's base is sweet potato. Many comment that it tastes like frozen chocolate mousse.
Making the Sweet Potato
For those who think it's too much trouble to bake a sweet potato before you can make this chocolate ice cream, you can microwave one—prick it first to prevent it from potentially exploding—in about five minutes.
Chocolate N'Ice Cream with Coffee?
If you're wondering about the instant coffee in the ingredient list, it enhances the chocolate flavor. If you don't have it, no worries, the ice cream is still amazing without it.
How Long to Freeze
As with the other N'Ice Creams, depending on the temperature of the sweet potato, chocolate and the coconut milk, it may almost be ready for scooping up straight from the blender, but it will likely need a little chill time. You'll probably have two to four hours to serve it before the ice cream starts to harden, at which point, you can simply soften it in the microwave on the defrost setting or throw it back in the blender with a little plant milk to return to its soft, creamy scoopable state.
Leftovers
We doubt you'll have leftovers, but if you do, you can turn this chocolate ice cream into a milkshake by blendering it with enough plant milk to give you a shake consistency.
Chocolate N'ice Cream that's Actually Healthy
One more thing we accomplished that was not part of our original goals. Look at the ingredient lists. These ice creams are downright good for you!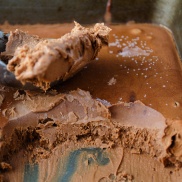 Easy Chocolate N'Ice Cream
Recipe Notes
The quickest way to cook the sweet potato for this ice cream is in the microwave. A medium potato takes about 5 minutes on high power. Don't forget to prick the potato several times with a fork before cooking it.
Ingredients
1

cooked medium sweet potato,

mashed (about 3/4 cup), warm (see Recipe Notes above)

8

ounces

chocolate chips,

microwaved on 30% power for 5 minutes

1

can (13.5 oz)

light coconut milk

1

teaspoon

instant coffee

Pinch

salt
Instructions
Puree sweet potato and chocolate in a blender until smooth. Add coconut milk, coffee, and salt; continue to puree until velvety thick. Turn into a sealed container. Freeze for 2-3 hours. (Best eaten within a few hours, but it can be frozen for several days, let sit to soften before scooping.)