As a child, my mom's chicken pot pie was in my top five favorite dinners. Not surprisingly, when I came home from college, it was always on her "Make for Maggy" list. Pot pie is the epitome of classic comfort food, which is why I wanted to make it (and other comfort classics) Planetarian – to show that choosing plants over meat doesn't mean missing out. This Vegetarian Pot Pie definitely doesn't leave you feeling like anything is missing. By now you know a Planetarian Life doesn't require anyone to reject meat or dairy. The purpose is to show people what's possible without it! In my experience, living a life that heals the earth has meant the complete opposite of losing out, it has filled me with a deep sense of joy, purpose, and satisfaction.
My inner-child is excited to tell you that this version of pot pie doesn't disappoint, to us it's every bit as satisfying as the meaty version. Perfect for a cozy Sunday supper or even a dinner to serve to friends and family along with a salad or steamed greens beans or broccoli. And of course, this one is kid-friendly, too.
4.9 Stars from the Recipe Testers for this Vegetarian Pot Pie
The Planetarian Life recipe testers loved this recipe. Here's what they had to say:
"Loved this! First time trying plant based butter. Worked great! My husband really liked this which is always a good sign. I made it with cauliflower and mushrooms. Everything came together easily and frankly for a pot pie it was faster."
"As usual, this was an easy, delicious recipe. Although I'd never used vegan butter, I found this made a very tender biscuit."
"The humble pot pie shines in this recipe."
"This was a hit with both kids. The biscuits (like nothing I've made before) were more filling than they looked. It will enter the winter rotation towards the end of the week because it will be a great way to use up uneaten vegetables!"
Use What Vegetables You Have
The great thing about this pot pie is that you can use whatever is in season or needs using up. You can also just use whatever vegetables you love! Ultimately, you need a pound in a total, feel free to use a mix.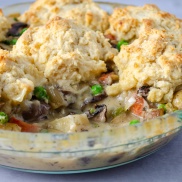 Winter Vegetarian Pot Pie
Recipe Notes
This recipe calls frozen plant-based butter, so make sure you consider that when planning to prep and cook. Also, you can make the vegetables and sauce in advance, just be sure to warm it through before topping with the biscuit dough. If not, the biscuits bottoms may not fully cook by the time the pie is done.
Ingredients
1

large

onion,

cut into medium dice (you can substitute a medium leek, trimmed, quartered lengthwise, cut into medium dice, and washed)

1

pound

red or yellow boiling potatoes,

cut into medium dice

1

pound

vegetables,

see below

1/4

cup

olive oil,

divided

1

teaspoon

dried thyme,

divided

Salt and ground black pepper

1/2

cup

frozen peas

1/4

cup

flour

1

cup

each: vegetable broth and rich plant milk

(such as oat or coconut creamer)
Vegetables (Pick a mix - you'll need a pound)
Cabbage, quartered, cored and cut into short 1/2-inch thick slicesCauliflower, cut into small florets

Winter Squash, peeled, seeded, and cut into medium dice

Carrots or parsnips, peeled, halved or quartered if large, and sliced 1/2-inch thick

Turnips or rutabagas, peeled and cut into medium dice

Sliced Baby Bella mushrooms
Biscuits
1 1/2

cups

unbleached all-purpose flour

1 1/2

teaspoons

each: baking powder and sugar

1/2

teaspoon

salt

6

tablespoons

plant-based butter,

cut into 4 to 6 pieces and frozen

1/2

cup

rich plant-based milk

(such as oat or coconut creamer)
Instructions
Heat oven to 450 degrees. Toss onion, potatoes and vegetables of choice with 2 tablespoons of oil, 3/4 teaspoon thyme, and a generous sprinkling of salt and pepper on a large rimmed baking sheet. Roast vegetables until tender, about 20 minutes. Remove, add peas, and set aside. Reduce oven temperature to 400 degrees.

While vegetables cook, heat remaining 2 tablespoons of oil over medium heat in a large saucepan or small Dutch oven. Whisk in flour and remaining 1/4 teaspoon thyme; cook until golden, about 1 minute. Whisk in milk and broth; simmer until sauce comes to a boil and fully thickens; cover and keep warm.

For the biscuits, pulse flour, baking powder, sugar, and salt to combine a food processor. Add butter; process until fully incorporated into the flour (if you don't have a food processor, you can do this by hand). Pour flour mixture into a medium bowl; stir in milk with a fork to form a soft dough.

Add hot vegetables to warm sauce; adjust seasonings including salt and pepper to taste. Pour mixture into a 9-inch deep-dish pie plate. Using a spoon or your hands, break dough into 8 small pieces and evenly arrange them over the warm filling. Bake until the sauce is bubbly and biscuits are a rich golden brown, about 30 minutes. Serve.