Most days, we find it relatively easy to serve up plant-rich meals. It's the holidays that can be challenging. What's the big special thing that takes the place of a roast turkey, prime rib, or pork loin? Last year we developed Mushroom Wellingtons, a recipe we frequently serve for special fall and winter dinners, but in Capsule Kitchen terms, it's nice to have more than one holiday main-course in your repertoire.
So as we contemplated this year's center-of-the-table beauty, Maggy paged through English celebrity chef, Jamie Oliver's holiday cookbook. When she got to the recipe entitled "Incredible Nut Loaf" she pointed at the photograph and said, "What about something like this?"
It was, in fact, a beauty, but one look at the twenty-seven ingredients (in grams) and paragraphs of multi-stepped instructions, and I thought, Well I'll give a try, but I'll surely streamline and simplify this recipe before publication.
Simplifying the Holiday Roast
As I started to translate and break down the recipe, however, it was less complicated than I thought. Despite the long ingredient list and lengthy instructions, I realized that except for the chestnuts, it was nothing more than a mix of common vegetarian loaf ingredients, bound by eggs, baked in a loaf pan, and united with a chunky cinnamon-spiked tomato sauce and a grated sharp cheddar topping for its final few minutes in the oven.
Once the ingredients were prepped, the loaf and sauce came together easily. And once baked, the loaf emerged from the oven as stunning as Jamie's. Even better, the flavors and texture were spot on.
I sent Maggy a picture. "Wow, she exclaimed. It looks amazing! How does it taste? Do you plan to make changes to the recipe?" For one of the first times in my life as a recipe developer, I said, "No, it's perfect just the way it is." Between the liberties I took in the translation and a few adjustments and tweaks, it's a bit different from the original, but not enough to call it my own, so here's to you, Jamie!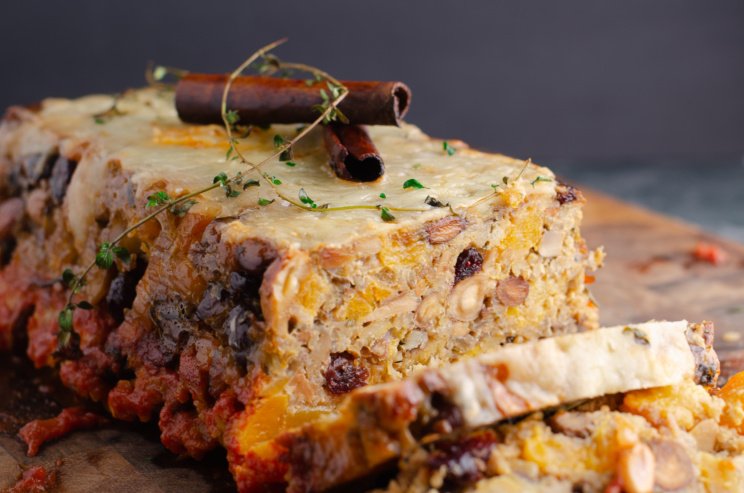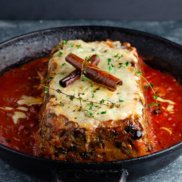 Planetarian Holiday Roast
Recipe Notes
Ingredients
1 1/2

cups

cooked quinoa from Quick Quinoa

2

tablespoons

olive oil

1

generous cup

small cubed butternut or other winter squash

1

medium-large

onion,

cut into small dice (about 2 cups)

2

celery stalks,

cut into small dice (about 1 cup)

2

large garlic cloves,

minced

7

ounces

cooked chestnuts,

crumbled (about 1 1/3 cups)

Rosemary leaves plucked from 2 sprigs

Salt and ground black pepper

1/2

teaspoon

each: cayenne pepper and smoked paprika

1

teaspoon

dried oregano

4

ounces

portabella mushrooms,

cut into small dice

3

tablespoons

butter

1

teaspoon

finely grated lemon zest

3/4

cup

fresh breadcrumbs

1/2

cup

each: dried cranberries and small diced dried apricots

1

cup

mixed roasted premium nuts,

coarsely chopped

4

large

eggs,

whisked

1/2

cup

grated extra-sharp grated cheese
Salsa Rossa
1

large (6 in)

cinnamon stick,

halved (or two 3-inch sticks)

1/4

teaspoon

hot red pepper flakes

1

tablespoon

olive oil

2

sliced garlic cloves

1

small

onion,

peeled and cut into small wedges

2

teaspoons

fresh thyme leaves,

plus 2 sprigs reserved for garnish

1

can (28 oz)

plum tomatoes (San Marzano, if possible),

crushed with hands

1

tablespoon

balsamic vinegar
Instructions
Oil a 9- by 5-inch loaf pan with cooking spray and line the bottom and up the sides with a 9- by 15- inch sheet of parchment paper. Oil parchment with cooking spray. Heat the oven to 350 degrees. If you haven't cooked the quinoa, do it now.

Heat oil in a large (12-inch) skillet over medium-high heat; add squash, onion, celery, garlic, chestnuts, and the rosemary; sautéing for a few minutes to start the cooking process and seasoning with salt and pepper. Reduce heat to medium low, add the cayenne, paprika, and oregano and continue to cook until vegetables are fully cooked, about 15 minutes, stirring in the mushrooms the last 5 minutes of the cooking process. Remove from heat, stir in butter and lemon zest, and transfer to a large bowl. Add quinoa, breadcrumbs, cranberries, apricots, and nuts; toss to combine. Adjust seasonings to taste, including salt and pepper. Add eggs; toss to combine. Turn into prepared pan and bake until golden and set, about 45 minutes.

Meanwhile, heat cinnamon sticks, pepper flakes, and oil in a large skillet over medium-high heat until pepper flakes start to sizzle. Add onions, garlic, and thyme; sauté until tender, about 5 minutes. Add tomatoes and about a half can of water and bring to a simmer. Reduce heat to medium-low and continue to simmer to blend flavors and reduce to sauce consistency, about 20 minutes. Remove cinnamon sticks from sauce.

Remove roast from oven, loosen at each end, turn onto a work surface, and then transfer to skillet of tomato sauce. Sprinkle with cheese and garnish with cinnamon sticks and thyme. Return to oven and continue to cook until cheese melts and sauce is simmering, 10 to 15 minutes longer. Remove from oven, transfer roast to cutting board and let rest to firm up,10-15 minutes. Keep sauce warm, adding water as necessary to create a juicy, spoonable sauce. Slice, serving with a portion of sauce.