We initially developed Carrot-Potato Mash with Scallions as a colorful side dish for Mushroom Wellingtons and as pillowy bed for the accompanying Wellington gravy. Once we made this mash a few times, however, we started to like it for other reasons.
Why We Use Carrots
The potatoes and carrots cook together in the same pot, the potatoes softening ever so slightly more quickly than the carrots. When drained and mashed, the potatoes break down completely while the carrots retain a bit of their shape, creating a more interesting texture and a more visually striking look.
Low-Calorie Potato Mash
We knew potatoes were more caloric than carrots, but it was a pleasant surprise to discover that potatoes are, in fact, more than twice as caloric as carrots—116 calories to carrot's mere forty-five. So enjoy this dish, knowing that it has over a quarter fewer calories than traditional mashed potatoes.
No doubt, mashed potatoes are comfort food, but it's gravy that gives them flavor. Toss a few carrots in the pot, and without any enhancements, the mash naturally tastes more flavorful.
Using Yellow Potatoes
Our first few shots at making this mash, we used thick-skinned starchy potatoes. We found their tough skins a little too prominent in the dish but work well as long as you peel them. Ultimately, we settled on yellow-fleshed potatoes, like Yukon Golds and yellow finns because their paper-thin skin mashed up undetectable in the dish. We also liked their pale yellow hue.
Making Potato Mash Ahead
We typically don't like mashed potatoes made ahead. Not so with Carrot-Potato Mash with Scallions. You can make these completely ahead with no compromise in flavor. We like reheating this carrot-potato mash in a covered heatproof bowl, set over a pan of simmering water, stirring them occasionally, until heated through.
The Finishing Touches
You can use snipped chives to flavor the carrot-potato mash. But, we find sliced scallion greens cheaper, easier to prep, and just as flavorful.
Compared with skin-on potatoes that are boiled whole, diced potatoes absorb cooking liquid. So, you may want to hold back some of the plant cream and determine if you need the rest.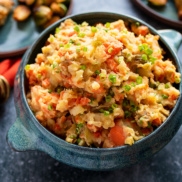 Carrot-Potato Mash with Scallions
Recipe Notes
Ingredients
2

pounds

each: baking potatoes and carrots,

peeled and cut into medium dice

2

teaspoon

salt

1/2

cup

thinly sliced scallion greens

1/2

cup

unflavored plant-based creamer

4

tablespoons

plant butter
Instructions
Bring potatoes and carrots to boil in 2 quarts of salt-seasoned water over medium-high heat in a large, covered pot. Continue to cook until tender, about 10 minutes. Holding lid ajar over the pot, drain water. Using a potato masher, coarsely crush potatoes and carrots, stirring in scallions and creamer, followed by butter. Can be made a day or two ahead. Reheat in the microwave or in a heat-proof bowl set over a pan of simmer water.