As we here at Planetarian Life talked about the big holiday dinner—for us, that would be Christmas— we wanted it to look traditional, feel celebratory, and taste irresistibly delicious. We didn't want anyone to notice that it also happened to be plant-rich. As I started my research for our holiday main course, I came across a Wellington recipe featuring portobello mushrooms rather than the usual beef tenderloin. Bingo! Here was our classic crowd-pleasing holiday dish.
As we thought about how to make mushroom Wellington a uniquely Planetarian Life recipe, it suddenly became very clear. Last summer, we developed a how-to for grilled/broiled portobello mushrooms. We started with marinating them in a garlicky blend of soy, balsamic, and olive oil. This contributed great flavor and doubled as a wonderfully rich sauce. This first cooking would not only dehydrate the mushrooms, keeping them from sogging the pastry, it would also add great flavor. With the portobello mushroom sorted, we moved on to the other components.
Capsule Kitchen Celebrations
Just a few weeks earlier, we had developed Mushroom Paté for our holiday board—a perfect stand-in for the foie gras paté in classic Beef Wellington. A bed of Caramelized Onions, a Planetarian Life Essential, would round out this mushroom duo. That all three Mushroom Wellington components were already recipes on the PL site perfectly exemplified the Capsule Kitchen at work.
The first few times, I made the PL Mushroom Wellington as one big packet. Everyone loved the look and flavor, but someone eventually observed that it didn't look as pretty on the plate as it did on the cutting board. She suggested we make them individual packets, which I thought was brilliant. The individual Wellingtons were a little more work to assemble, but the payoff was worth it. They made a beautiful presentation.
The Puff Pastry
The brand of puff pastry you buy will determine how you roll the dough. A box of nationally available Pepperidge Farm puff pastry (17.3 ounces), which comes two sheets to the package, is enough to make all eight Mushroom Wellingtons. Simply roll each sheet into a 12- by 12-inch square and cut each one into four 6- by 6-inch squares for a total of eight.
If using brands like Wewalka (13.2 ounces) or Dufour (14 ounces), you'll need two boxes to make eight individual Mushroom Wellingtons. Working one sheet at a time, roll the pastry into an 18- by 12-inch rectangle, cutting it into six 6- by 6-inch squares. You'll have four leftover puff pastry squares, but once you've tasted these Wellingtons, it won't be long before you make them again. Simply stack them and refreeze.
The Portobellos
Portobello mushrooms vary in size. Medium-large ones are ideal— they shrink a good bit when broiled—but any size will work. Overlap the dough over the small ones and stretch the dough over the larger ones to cover.
Before marinating the mushrooms, remove the stems and scrape out the gills. These will be processed and cooked to make the highly flavorful mushroom gravy. If you break a mushroom during this process, don't worry. It's baked under a blanket of pastry. No one will ever notice.
Make Your Wellingtons Ahead and Freeze Them!
To keep the puff pastry from getting soft, you'll want to have all the components made before assembling the Wellingtons. But it's nice to have the mushrooms broiled, the paté made, and the onions caramelized ahead anyway. The other bit of good news is that you can completely make the mushroom packets ahead and freeze them. Just add an extra ten minutes to the baking time. So here it is—a traditional, celebratory, delicious plant-based main course that can be completely made ahead!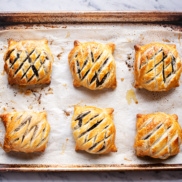 Mushroom Wellington
Recipe Notes
*The brand of puff pastry you buy will determine how you roll the dough. See the post for details specific to each brand.
- If your pastry has 17.3 oz in two sheets, roll each sheet into a 12- by 12-inch square and cut each one into four 6- by 6-inch squares for a total of eight.
-If your pastry is 13 or 14 oz in one sheet, you'll need two boxes. Roll each 13-14 oz sheet into an 18- by 12-inch rectangle and cut it into six 6- by 6-inch squares. You'll have four leftover puff pastry squares that can be refrozen.
The Wellington packets can be made ahead and frozen. No need to thaw them, simply add ten minutes to the baking time for a total of about 35 minutes.
Ingredients
Broiled Portobello Mushrooms & Gravy
8

medium

portobello mushrooms, stems removed, gills scraped out, and both reserved

3

cloves

garlic

1/4

cup

each: balsamic vinegar, soy sauce, and olive oil

1/2

cup

red wine or dry vermouth
Caramelized Onions
6

tablespoons

olive oil

4

large

sweet onions, halved and sliced thin
Wellington
1

box (17 oz)

store-bought puff pastry*, regular or vegan

2

large

eggs, beaten or 1/2 cup chickpea cooking liquid (aquafaba) from a 15-oz can

2

teaspoons

cornstarch (for finishing the gravy)
Instructions
Make Caramelized Onions (refrigerate until ready to use)
Heat the oil over low heat in a large roasting pan set over 2 burners while slicing the onions. A few minutes before adding the onions, increase the heat to medium-high. Add the onions: cook, stirring often, until they are dramatically reduced and light caramel brown, 10 to 15 minutes.

Reduce the heat to medium-low; continue to cook the onions, stirring frequently until they are rich caramel, 20 to 30 minutes longer. (Can be cooled to room temperature, and refrigerated in a covered container for several weeks.)
Make Broiled Portobellos & Prep Gravy (refrigerate until ready to use)
Place prepared mushrooms in a gallon-size freezer bag. Place garlic, vinegar, soy, and oil in a food processor; blend to make an emulsified marinade. Add marinade to mushrooms; marinate for at least fifteen minutes and up to an hour. Process gills and stems in the unwashed food processor bowl and turn into a medium saucepan; set aside.

Adjust oven rack to upper position—about 6 inches from the heating element—and turn oven to broil. Let broiler heat for 10 minutes.

When ready to broil, place mushrooms, tops side up, on a foil-lined rimmed baking sheet and pour excess marinade into the saucepan.

Broil mushrooms until impressively brown on one side, about 8 minutes. Turn mushrooms over and carefully pour excess mushroom juice into saucepan. Continue to broil mushrooms until they are cooked through, about 5 minutes longer.

Meanwhile, cook the processed gills and stems in the saucepan until most of the moisture has evaporated, about 5minutes. Add wine; simmer until reduced by half, a few minutes longer. Add 1cup of the mushroom broth and the marinade; bring to a simmer, reduce heat to low and continue to simmer to blend flavors, about 5 minutes. (Mushrooms and gravy can be covered and refrigerated overnight.)
Make Mushroom Paté (refrigerate until ready to use)
Following recipe instructions, make Mushroom Paté; refrigerate until ready to use. (Can be covered and refrigerated for at least a week)
Make Wellingtons & Finish Gravy
When ready to bake, adjust oven rack to lower- middle position and heat oven to 425 degrees. On a floured work surface, roll puff pastry sheet (or sheets) so that you are able to cut eight 6-by 6-inch squares (see headnote for detailed instructions).

Working one pastry square at a time, brush an egg wash border on all sides. Set a portobello mushroom, top side down, in the center. Fill cap with a portion of the Mushroom Paté, followed by a portion of Caramelized Onions. Fold in each pastry corner to former a packet, sealing the seams, to form a pastry packet. Set, seam side down, on a large oil-coated rimmed baking sheet. Repeat with remaining puff pastry, mushrooms, paté, and caramelized onions. Brush pastry packets with egg wash, and then light score to pastry for a decorative look. Bake until pastry is golden brown, about 25 minutes.

While Wellingtons bake, bring mushroom gravy to a simmer in a medium saucepan. Mix cornstarch with remaining 1/4 cup of mushroom broth and stir into simmering liquid. Continue to simmer until slightly thickened. (If you prefer a thicker gravy, increase cornstarch to 1 tablespoon.)

Serve immediately with gravy ladled over Carrot-Potato Mash with Scallions, and extra gravy passed separately.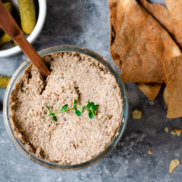 Mushroom Paté
Recipe Notes
Ingredients
1/4

cup

olive oil,

divided

2

medium

shallots,

cut into small dice

1

pound

baby bella mushrooms,

chopped by pulsing in a food processor

2

tablespoons

each: chopped fresh sage and thyme leaves

(or 2 teaspoons each: dried)

Salt and ground black pepper

3

tablespoons

cream sherry

1

teaspoon

lemon juice

A heaping 1/2 cup toasted walnuts
Instructions
Heat 2 tablespoons of oil in a large skillet. Add shallots and sauté until tender, 2 to 3 minutes. Add mushrooms; cook until most of the liquid has evaporated, adding sage and thyme and seasoning with salt and pepper, about 5 minutes. Add sherry and lemon juice; continue to cook until liquid evaporates, a minute or so longer.

Grind walnuts in a food processor. Add mushroom mixture and remaining 2 tablespoons of oil; continue to process until pureed. Taste and adjust seasonings, including salt and pepper to taste.