You can make sweet potato puree for the holiday table, but like the mashed potatoes and stuffing on the plate, it's just one more rich, creamy dollop seeping into all of the other rich creamy dollops. I prefer to savor the flavors of each dish on the plate. I don't want them all running together. Enter the sweet potato boat.
Instead of peeling, cubing, and roasting or boiling sweet potatoes for the puree, we halve and roast them, scooping out the tender flesh for pureeing and saving the sturdy skins as a vessel for the delicate sweet mixture. Not only do these boats contain the puree, but they also look festive on the holiday plate.
Halving a raw sweet potato isn't easy, but it cuts oven time in half. To more easily halve a sweet potato, insert the tip of a sharp chef's knife into the sweet potato's center and slice lengthwise down one half. Reinsert the knife tip into the sweet potato's center and slice lengthwise down the other half to complete the cut. If you have a toaster oven this is the perfect time to use it.
Creating the Creamy Center
Once the potatoes are baked, it's time to scoop out the soft pulp into the blender. You'll need to wait a few minutes until the sweet potatoes are cool enough to handle, but you'll want the flesh to be warm enough to melt the plant butter you're about to process into it.
You can use the food processor or the blender for pureeing the sweet potatoes, but you'll get a smoother, much silkier texture in the blender.
Once you return the sweet potato puree to the potato boats, you can bake them right away, or you can cover them and let them stand at room temperature for a few hours before baking them.
Topping your Sweet Potato Boats
We've topped the sweet potato boats with pumpkin seeds, which offer interest and texture, but for candied yam lovers, feel free to top them with miniature marshmallows.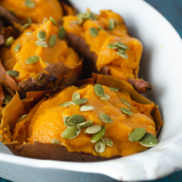 Creamy Sweet Potato Boats
Recipe Notes
Ingredients
4

medium

sweet potatoes.

halved

4

tablespoon

plant-based butter

1/2

cup

unflavored plant creamer.

such as oat

Salt and ground black pepper

2

tablespoons

pumpkin seeds
Instructions
Adjust oven rack to lowest position and heat oven to 400 degrees. Place potatoes, cut side down, on an oiled parchment-lined baking sheet. Bake until fork tender, about 30 minutes; let rest until cool enough to handle. Working one at a time, hold potato half in one hand and scoop warm potato flesh into a blender, leaving enough flesh behind to create a sturdy shell. Add butter and creamer; puree, stopping and stirring, if necessary, until creamy smooth. Spoon puree back into shells, top with pumpkin seeds and return to oven. Bake until heated through, 10 to 12 minutes. Serve.