If you are looking to make a Jumpstarter recipe from our Cream-Style Corn base, but haven't made it ahead, this Creamy Corn Pasta is the perfect dish. You will finish cooking pasta and your creamed corn almost at the same time.
Before making Cream-Style Corn, get a pot of salted water boiling. At the same time, heat a second pot with plant-based butter—olive oil is fine too—for the Cream-Style Corn. Boil your bite-sized pasta in one pot while you simmer corn chowder in the other.
Boil Corn Pasta in a Small Amount of Water
Take note that we cook pasta in a relatively small amount of water, which we do because it takes a long time for a large pot of water to come to boil. It takes less time to boil the smaller amount of water. But your pasta is more likely to stick so it's important to stir it—especially at the beginning of the cooking process.
Combining the Base and the Pasta
By the time the creamed corn is done, your pasta should be too. No worries if one gets done before the other. The creamed corn is certainly fine to sit while the pasta finishes cooking, and vice versa. When the pasta is al dente, just drain it, return it to the pot, and cover it until you're ready. Don't worry about the cooked pasta sticking together as it waits. Once you stir in the creamed corn and toss it, it will separate. To finish the pasta, just add finely chopped sundried tomatoes—we prefer the ones packed in oil—which add a little zing, and a handful of chopped fresh basil, which heightens flavor.
Other Jumpstarters
If you don't like buying fresh herbs for a single recipe, all three of the Cream-Style Corn Jumpstart recipes call for basil. Try our Simple Corn Chowder and Quick Corn Cakes.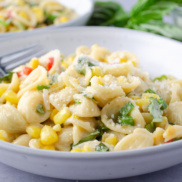 Creamy Corn Pasta
Recipe Notes
If you like, sprinkle each portion with a little vegan Parm.
Ingredients
Salt

1

pound

bite-size pasta such as rigata

1/2

recipe (about 4 cups)

Cream-Style Corn,

warm or at room temperature

1/2

cup

thinly sliced scallion greens left from Cream-Style Corn

1/2

cup

finely chopped sundried tomatoes

1/4

cup

chopped fresh basil
Instructions
Bring a generous 2 quarts of water and 1 tablespoon of table salt to boil in a large pot. Using back of the box cooking times as a guide, add pasta and cook until al dente, stirring several times at the beginning to prevent sticking. With a large bowl under the strainer to catch the liquid, drain the pasta and return it to the pot.

Add Cream-Style Corn, scallions, sundried tomatoes, and basil; toss to coat, adding additional pasta water, if needed. Serve.