We could easily understand how you could transform Cream-Style Corn into Simple Corn Chowder and Creamy Corn Pasta, but Quick Corn Cakes are a different story. When we analyzed the average corn cake recipe, we started to see how it might work. After all, Cream-Style Corn is just corn and flavorings bound with a little creamy liquid. Just add dry ingredients—flour and cornmeal—and leavener in the form of baking powder, and you've got corn cake dough. Heat a little oil in a large skillet, form that dough into cakes, and fry them up for a super satisfying meal.
Frying Up Corn Cakes
We wish it were possible to cook these cakes on a griddle, because you could cook all twelve cakes at one time. To get brown, however, the cakes need to cook in oil. When you pour oil onto a griddle, it ends up flowing into the trough. In order to cook the cakes properly, you need a skillet which holds in the oil and keeps the cakes sizzling. If you've got 2 large skillets, you can cook them all at one time. Otherwise, you'll need to cook them, six at a time, in a large skillet.
If you've got a toaster oven, you can keep the cooked cakes warm while the remaining ones fry, but we don't think it's worth preheating a full-size oven to keep six cakes warm for just a few minutes.
One final point. The cakes absorb most of the oil on the first side, so once you flip them, drizzle in a tiny bit more so that they brown on the remaining side.
Serve Them Up!
As a starter, serve one to two per person. Serve three per person, and it becomes a main course. Leftover cakes are wonderful. We especially enjoy them for breakfast, which you can take in a savory way with a dollop of sour cream or yogurt and a spoonful of salsa. You can also take these cakes a sweet direction with a spread of butter and a drizzle of maple syrup.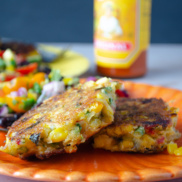 Quick Corn Cakes
Recipe Notes
Makes 12 cakes, serving 4-6 people.
Depending on how much you salted the Cream-Style Corn, you may want to add a little salt—1/4 teaspoon or so—to these cakes. Serve with salsa and plant-based sour cream.
Ingredients
1/2

recipe (about 4 cups)

Cream-Style Corn,

at room temperature

1

cup

all-purpose flour

1/2

cup

cornmeal

2

teaspoons

baking powder

1/2

cup

thinly sliced scallions left from Cream-Style Corn

1/4

cup

chopped fresh basil

1/4

cup

olive oil,

divided
Instructions
Heat a large (12-inch) nonstick skillet over low heat while preparing the cakes. Scrape Cream-Style Corn into a large bowl; add flour, cornmeal, baking powder, scallions, and basil; stir to combine. Divide into 12 equal mounds and set on a baking sheet; form mounds into cakes.

Increase heat to medium-low and add a scant 2 tablespoons of the oil to the skillet. Add 6 cakes; cook until impressively brown, about 4 minutes. Turn cakes over and continue to cook, drizzling in a teaspoon or so of oil if necessary (no need to measure) to keep them gently sizzling, until second side is impressively brown, another 4 minutes. Remove cakes from pan and keep them warm. Add remaining 2 scant tablespoons of oil to the skillet and cook remaining cakes. Serve warm.