I like tradition, but I've never been one to insist that I cook or eat the same dish every holiday. In fact, as life is constantly changing, I love evolving traditions that tip their hat to the past and speak directly to the present.
Maggy's husband, Andy, is from England, and the last few years we've bumped our big holiday roast dinner to Boxing Day and served a curry dinner for Christmas as many do in England. It was a wonderfully new tradition for us.
For this year's Christmas feast, we gave ourselves the added challenge of transforming two popular curries—Chicken Tikka Masala and Sag Paneer—into plant-based dishes, festive enough for the holiday table. By subbing in chickpeas and cauliflower for the chicken, we developed a tasty Chickpea-Cauliflower Tikka Masala.
It was time to turn our attention to Sag Paneer, which wasn't as difficult to Planetarian-ize. Having already experimented with extra-firm tofu, we suspected its texture would be like paneer, that fresh, slightly tangy Indian cheese found in the dish.
In fact, extra-firm tofu was a super simple sub for paneer. To heighten flavor, we coated the cubes in a combination of chili powder, turmeric, salt, and oil, and to improve texture, we sautéed them before adding them to the spinach mixture.
For ease of preparation, we stuck with frozen spinach, which we spiked heavily with cumin seeds and garlic cloves. To reinforce the cheese's tart contribution to the dish, we added a small amount of yogurt—either plant or dairy is fine—and a generous pour of lemon juice. Note: if making the dish ahead, hold off adding the lemon juice until shortly before serving.
Make sure not to squeeze the liquid from spinach. You'll need it to keep the dish moist. And add coconut milk to get to that just right texture somewhere between tight and juicy.
Enjoy this dish on its on for weeknight dinner or make it as part of a greater feast as we did this past Christmas, frying up papadums for appetizers, baking naan for sopping, and steaming basmati rice for absorbing. Either way, it's great!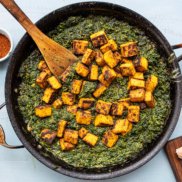 Planetarian Saag "Paneer"
Recipe Notes
Ingredients
4

teaspoons

each: chili powder and turmeric,

divided

Kosher salt

6

tablespoons

neutral oil

such as grapeseed or vegetable

1

pound

extra-firm tofu,

cut into medium dice

1

tablespoon

cumin seeds

6

garlic cloves,

minced

2

pounds

frozen chopped spinach,

thawed

1/4

cup

plain whole milk dairy or plant-based yogurt

3

tablespoon

lemon juice

1

can (13.5 oz.) coconut milk
Instructions
Mix 1 teaspoon each of the chili powder and turmeric, 1 teaspoon kosher salt, and 2 tablespoons oil; Place tofu in a medium bowl; add spice mixture and toss to coat. Set aside until ready to cook. (Can be covered and refrigerated overnight.)

Heat a large (12-inch) skillet over medium-high heat. Add tofu and cook on one side until well browned, 4 to 5 minutes. Turn tofu and cook until other side is well browned, another 4 to 5 minutes; return to bowl.

Heat remaining 4 tablespoons of oil in the now empty skillet. Add cumin seeds, followed by remaining tablespoon each of chili powder and turmeric, and finally the garlic. Cook until garlic sizzles and starts to turn golden, a couple of minutes. Add spinach and cook until it heats through, a couple of minutes. Stir in yogurt, a tablespoon at a time, until incorporated. Stir in lemon juice and a generous sprinkling of salt, followed by 3/4 cup coconut milk. Heat through again, adding additional coconut milk as needed (up to the full can) and the tofu. Adjust seasonings, including additional salt and spices to taste. Serve.