We're excited to share our Chickpea-Cauliflower Tikka Masala, our take on the popular Indian classic: Chicken Tikka Masala. It's simple enough. By subbing chickpeas and cauliflower for the chicken, we've made an equally satisfying, substantial dish.
 Chickpea-Cauliflower Tikka Masala is not our first update of this classic. Ten years ago, I developed Chickpea-Chicken Tikka Masala for our food blog Three Many Cooks. Interestingly, here's what I said back then:
"It's Meatless Monday and eliminating meat from your diet a day or two a week is certainly a way to cut back on meat consumption. The other way is to reduce the amount of meat in a dish… like here. Classic Chicken Tikka Masala becomes Chickpea-Chicken Tikka Masala.
Chickpea (not Chicken) Tikka Masala
There would have been a time I would have called for double the chicken to serve six in a dish like this. Instead, I call for only a pound, making up the difference with two cans of chickpeas."
It's interesting to look back a decade and see how my cooking style has evolved. I've gone from reducing to eliminating the chicken in the dish, which perfectly exemplifies the Planetarian Life approach. You don't need to go meatless cold turkey. It can be a gradual shift.
Back then I took the time to simplify and lighten the recipe. Instead of a long list of individual spices, I called for just two spice blends—garam masala and chili powder—which very easily delivers complex flavor. I also I traded lighter coconut milk for the usual heavy cream. Both moves were good decisions then, and they're still good decisions now.
There's nothing to say you can't make it the old way with the chicken but why not give it a try with cauliflower. If you're like us, you'll probably quote our famous line, "Didn't miss the meat in this one!"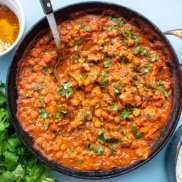 Chickpea-Cauliflower Tikka Masala
Recipe Notes
*If you don't have a quart of the tomato sauce called for in the recipe, sub in a 28-ounce can of crushed tomatoes and sauté 3 minced garlic cloves along with the onion. You'll also want to simmer it 5 to 10 minutes longer as well.
Not all 12-inch skillet are alike. To save on pots and pans, we've made this a one-skillet meal, but if your pan is not full size, you may want to consider steaming the cauliflower in a skillet and making the stew in a large pot.
Ingredients
2

tablespoons

garam masala

1

tablespoon

chili powder

1

teaspoon

ground ginger

½

teaspoon

ground turmeric

1

pound

cauliflower,

cut into bite-size florets

Salt

1/2

cup

plain whole milk dairy or plant-based yogurt

2

tablespoons

plus 2 teaspoons flavorless oil,

divided

1

large

onion,

cut into medium dice

1

quart

sauce from a Vat of Simple Tomato Sauce*

2

cans (15-16 oz each)

chickpeas,

drained

1

can

full-fat coconut milk

½

cup

chopped fresh cilantro
Instructions
Mix garam masala, chili powder, ginger, and turmeric in a small bowl; set aside.

Place cauliflower, a light sprinkling of salt, and 1/4 cup water in a large (12-inch) skillet. Cover and turn burner on high. Cook until water has nearly evaporated, and cauliflower is crisp-tender, about 3 minutes.

Meanwhile, mix yogurt and 2 teaspoons of the spice mixture in a medium bowl; add cauliflower and toss to combine. (The hot cauliflower thins the yogurt, so If there's time to either cool the cauliflower a bit before adding it to the seasoned yogurt, or to add the hot cauliflower to the yogurt and let them cool together, do it. Otherwise just keep going with the recipe. There's not a huge difference.)

Return skillet to the burner and heat 2 teaspoons of the oil. Add cauliflower and cook until well browned on both sides, about 5 minutes total. Remove cauliflower and then add remaining 2 tablespoons of oil and the onion; sauté, stirring to scrap up brown bits, until it just starts to soften, about 4 minutes. Add remaining spices; stir until fragrant, a minute or so. Add tomato sauce, chickpeas, coconut milk, and cauliflower. Bring to simmer, reduce heat to low and cook, partially covered and frequently stirring, to blend flavors, 10 to 15 minutes. Stir in cilantro and serve.