There are so many nights when 5pm rolls around and we realize we've made no plans for dinner. I stare into the fridge, willing some "magic bullet" dinner to appear, but I am stumped. This was my life until we started making Bases. A Base is a foundation for multiple meals made quickly, simply, and in large quantity. Portions can be flavored and used differently to create new meals. Use some now, save some for a rainy day when you need a head start. Now, every couple weeks, I make a large Vat of Simple Tomato Sauce which yields four aromatic, flavorful quarts of tomato sauce from which you can quickly and easily make four delicious (and very different) meals. You're minutes away from Coconut Curry with Chickpeas and Spinach, Creamy Homemade Tomato Soup, Pasta e Fagioli, or Quick Bean & Corn Chili.
Homemade All The Way
Sure, you can buy jarred tomato sauce instead of making homemade, but there is a big different between the taste and price tag. You can make this sauce from start to finish in 15-25 minutes (depending on your pot size) – and most of the time you leave it unattended. Once you get the tomato sauce going, just cruise by and give it a few stirs.
Money in the Bank
We usually put two quarts in the fridge for now and two quarts in the freezer for later. We call those two quarts in the freezer, "Money in the bank" and use them to jumpstart weeknight meals. If you're really pressed for time, you can always just heat the sauce and serve it over pasta. If you have made Caramelized Onions, you can stir some of those in, too. What else could you make from a quart of delicious tomato sauce?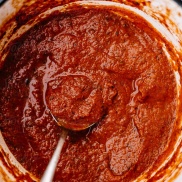 A Vat of Simple Tomato Sauce
Recipe Notes
San Marzano tomatoes are soft and sweet, the best canned tomatoes to my mind. If you can find them, buy them. Depending on the tomatoes' acidity, you may need to add a little sugar to your sauce. Start with a tablespoon and taste, adding up to 4 tablespoons.
For those who don't want to make A Vat of Simple Tomato Sauce, the recipe halves easily, but keep in mind the sauce freezes well, and it's a gift to pull a quart of this sauce from the freezer on a night you don't feel like cooking.
Your pot diameter will determine how long the sauce needs to simmer. For those using a pot that's 12 inches in diameter, the sauce will be done in about 15 minutes. For those using a pot that's 10 inches in diameter, the sauce will need to cook 20 to 25 minutes.
For those with kids, you may want to eliminate or halve the amount of pepper flakes.
Ingredients
1/2

cup

olive oil

2

medium-large

each: onions, carrots, and celery, cut into small dice OR for Garlicky Tomato Sauce substitute 12 cloves of garlic

1

teaspoon

hot red pepper flakes

4

cans (28 oz each)

whole tomatoes,

packed in puree or crushed tomatoes (preferably San Marzano variety)

1

cup

red or white wine or water

1

can (6 oz)

tomato paste

Salt and ground black pepper
Instructions
For Vegetable Tomato Sauce, heat the oil in a large pot over medium-high heat. Add the onions, celery, carrots, and pepper flakes and cook until vegetables soften, 5 to 7 minutes.For Garlicky Tomato Sauce, pulse garlic in the food processor. Heat the oil, garlic, and pepper flakes in a large pot over medium-high heat until garlic starts to sizzle, just a couple of minutes.

If using whole tomatoes, crush tomatoes with your hands or pulse in the food processor. Stir tomatoes in with vegetables or garlic depending on which version you're making. Use wine (or water) to rinse out cans and add it to the pot. Bring to a full simmer; reduce heat to medium-low and continue to simmer, uncovered, until sauce thickens and flavors meld, 15 to 25 minutes (see note below). Taste sauce, seasoning to taste with salt and pepper. Add enough tomato paste so that you've made a thick, full-bodied sauce. Simmer to blend flavors, a few minutes longer. Let cool and divide sauce among 3 to 4 quart-sized sealed containers. (Can be refrigerated a couple of weeks or frozen several months.)