If there's one thing I make time for each week, it's caramelizing onions. It's just so nice (and convenient) to reach into the fridge and pull out a container of caramelized onions to flavor Tofu Scrambled "Eggs" or our Simple Tomato Sauce or to top pizzas or toast. Or even to assemble a little tray of impromptu appetizers! We make caramelized onions the right way, cooking them low and slow to bring out the inherent sweetness and rich flavor.
Like most Essentials in the Capsule Kitchen, we don't make these caramelized onions to go with a certain dish, we make them just to have and use when the opportunity presents itself. As you'll see in the recipe, it yields a quart of caramelized onions. Why so many? Because caramelizing onions is easy, but it takes a bit of time. But I have never heard anyone say, "You know, I caramelized too many onions." So, you won't have a cute little mason jar of caramelized onions, you will have a quart. And you won't be sorry about it. If you're cooking for one or two, simply halve the recipe.
How long does it take to cook caramelized onions? ​
Every time I read a recipe for caramelizing onions that says "cook onions for 10 minutes" I shout to myself "That's not caramelizing onions, that's sautéing onions!" It takes a good while to really and truly caramelize onions, about 45 minutes. But the good news is that it's mostly a set-it-and-forget it process. Once you get them going, on low heat, you can go about doing other things and just give them a little stir every so often.
Our unique method for caramelizing onions
Because it takes a lot of onions to get a nice container full, we start with four big sweet onions and cook them in a heavy-duty roasting pan set over two burners. The larger surface area means they cook down more quickly. If you don't have a roasting pan, simply halve the recipe and caramelize two large onions in a 12-inch skillet.
How to store caramelized onions
Once they've cooked into a deep golden brown, transfer them into a Tupperware or jar with a tight-fitting lid and store in the fridge for up to two weeks.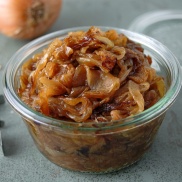 Caramelized Onions
Recipe Notes
Ingredients
6

tablespoons

olive oil

4

large

sweet onions,

halved and sliced thin
Instructions
Heat the oil over low heat in a large roasting pan set over 2 burners while slicing the onions. A few minutes before adding the onions, increase the heat to medium-high. Add the onions: cook, stirring often, until they are dramatically reduced and light caramel brown, 10 to 15 minutes.

Reduce the heat to medium-low; continue to cook the onions, stirring frequently until they are rich caramel, 20 to 30 minutes longer. (Can be cooled to room temperature, and refrigerated in a covered container for several weeks.)