---
This is a Variation on a Root Formula, a simplified recipe that shows which ingredients
are core and which can be changed to create different flavor combinations or use what you
have on hand. See our other variations at the bottom of the Root Formula page.
---
For me, one of the biggest challenges of plant-rich eating is what to put in between two slices of bread. I love sandwiches, particularly tuna and chicken salad, so we created a satisfying alternative. We started with a very simple chickpea "tuna" salad recipe, which we modified, and then paired it with all mom's flavor combinations for her egg salad recipe. Our main change was to amp up the flavor and crunch factors to compensate for meat and dairy's taste, texture, and richness. We currently have a classic and curry variation as well as a Greek variation we make with olive oil not mayonnaise (for all you mayo haters out there!), but this is a formula so there are endless possibilities and combinations.
Make it Chickpea "Tuna" Salad with the addition of one ingredient
We give the option of adding dulse flakes, which gives it a hint of the sea. We picked up ours at our local health food store. But, if you can't find dulse flakes, you can use chopped nori which is available at most every grocery store. When my dad bit into the classic chickpea "tuna" he said, "Oh, tuna?" He was surprised that we'd be having fish. "Nope, it's chickpeas!" I got a similar story from one of our recipe testers, she said, "I think you can hear me laughing! I made this dish and without telling my husband what I was serving…I asked how he liked it. It's good! I asked if he knew what it was. Sure, it's tuna fish." So, that tells you how convincing these salads are – and they're filled with protein.
A note on serving size
The serving size here isn't for a certain number of people, it's for a quart. Because this is the kind of thing that's really nice to have on hand throughout the week when everyone comes hunting and pecking for a little lunch or a snack. It's also the perfect thing to bring on a picnic as it travels well. Just be sure to make a double recipe if it's for a crowd. Our Planetarian Life Recipe Testers who made it for lunch admitted to eating most of it before lunch rolled around.
How to serve Chickpea "Chicken" Salad
There are so many ways to enjoy this "chicken" salad. You can serve it over a bed of greens or on a roll or bread, but my favorite is the curry with a stack of saltine crackers and some fruit.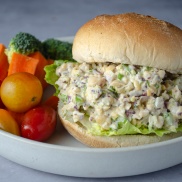 Classic Chickpea "Chicken" or "Tuna" Salad
Recipe Notes
Transform this mixture into tuna-flavored salad by adding 1 tablespoon dulse flakes (or finely chopped nori) to the chickpea mixture.
You can also use dry chickpeas to make this salad. Simply soak 1 pound of dry chickpeas for 6 hours or overnight in 6 cups of water and 1 tablespoon of salt. Drain and then cook them in a medium size soup kettle in 6 cups of water and 1 teaspoon of salt until just tender, about 45 minutes. This will yield a scant 6 cups of beans, which is enough to make this formula twice.
Ingredients
2

cans (15-6 oz each)

chickpeas,

drained (2 cans is about 3 cups)

1/2

cup

each: diced red onion and celery

1/2

cup

mayonnaise (preferably vegan)

1/2

cup

chopped dill pickles

2

tablespoons

lemon juice

2

tablespoons

parsley

salt and ground black pepper
Instructions
Pulse chickpeas in a food processor until it is a mix of finely and coarsely chopped, about 15 pulses. Turn into a medium bowl; Mix in onion, celery, mayonnaise, pickles, lemon juice, and parsley. Taste and adjust seasonings, including salt and pepper to taste. Let stand a few minutes for moisture to absorb. Serve. (Can be refrigerated in a covered container for a couple of days.)