A few weeks ago my friends in London were sharing recipes from a favorite vegan cookbook. I bought it immediately and when it arrived, I asked them "What should I make first?!" They recommended the lentil-walnut tacos. We had used lentils in a similar way before, but the addition of the walnuts is inspired. It adds chew as well as extra fat and protein so you're full for longer. The recipe was really good, but even they agreed – the flavor needed amping up.
Mom and I started by working on the lentil-walnut base, simplifying the preparation, and also using a pound of lentils. The original recipe called for 3/4 cup of lentils, but the filling keeps well in the fridge and even freezes, why not make extra for another meal? Then we got to work using it as a stand-in for ground meat in other favorite recipes and it quickly became one of our favorite Bases. A Base is a foundation for multiple meals made quickly, simply, and in large quantity. Portions can be flavored and used differently to create new meals. Use some now, save some for a rainy day when you need a head start.
We started by using the lentil-walnut mix for Mom's classic Sloppy Joe recipe – questionable name, delicious sandwich that all will love. Then we took the base, added spices and salsa, and made a delicious Taco Mix that I will probably make every week for eternity. We have used it in tacos, nachos, burritos, and tamale pie, and it's particularly delicious tossed into a Southwestern-vibe salad with our Salsa Dressing! We then used it to make Hoison & Sesame Lettuce Cups and Planetarian Stuffed Peppers – the list will go on and on as we develop and test more meals.
What kind of lentils should I use?
Use your basic, run-of-the-mill green or brown lentils for this base. I have been told by testers that it works with French lentils, too. But red lentils will break down, which you want with some recipes – but not this one!
The Best Method for Cooking Brown Lentils
Many people say they don't like lentils because of their texture. But we have the best way to cook brown lentils that ensures they hold their shape and bite.  Here's what one of our Planetarian Life recipe testers had to say:
"Although a bit skeptical about this recipe (I dislike lentils) this was an easy and tasty dish. Only cooking the lentils for a few minutes with not much liquid made the consistency much better than many dishes…the texture was similar to ground beef."
What do we do that's different? We soak the lentils so they cook very quickly – in just 3 to 4 minutes. There's no risk of these lentils getting mushy.
Feel free to experiment with this plant-based ground "meat"
This lentil-walnut mix is a great stand-in for ground meat and there are a hundred other potential ways to use it. Try substituting lentil-walnut mix in your favorite recipes that call for ground meat and see what you think. One tester used it in our Cottage Pie! I was thrilled that they had the confidence to try it and even more so that it turned out well.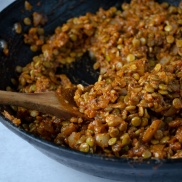 Lentil-Walnut Mix Base
Yield:
3
pounds (about 9 cups)
Recipe Notes
You can toast the walnuts one of two ways. You can toast them in the oven (a toaster oven is ideal for small quantities of nuts) at 325 degrees until fragrant and slightly darker in color, about 10 minutes. If you watch them carefully, you can also toast them stovetop in a large skillet over low heat, stirring frequently, until fragrant and slightly darker in color, 10 to 15 minutes. Don't be tempted to increase the heat—you'll be sorry!
You can chop the walnuts in the food processor-just pulse in short bursts until they are finely chopped, but not ground.
Ingredients
1

pound

regular brown lentils

Salt

3

cups

walnuts,

toasted and finely chopped
Instructions
Soak lentils in 6 cups of cold water and 1 tablespoon of salt for 4 hours and up to 24 hours.

Drain lentils and turn them into a large (12-inch) skillet with 1 cup of water. Cover and bring to full boil over high heat; reduce heat to medium-high and continue to cook, covered, until water has mostly evaporated and lentils are just cooked through, 3 to 4 minutes. Remove from heat and let stand, covered, a minute or so longer.

Mix lentils and walnuts and proceed with any Lentil-Walnut Mix Jumpstart recipes. Can be refrigerated up to a week or frozen for a couple of months.