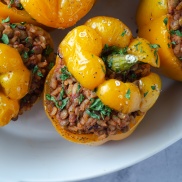 Planetarian Stuffed Peppers
Recipe Notes
Cheese is optional here. If you decide to use it, omit the parsley and sprinkle on a mix of 1/2 cup grated mozzarella and 1/4 cup grated Parmesan or pecorino Romano before broiling.
Ingredients
6

bell peppers (color choice yours),

tops removed and reserved, peppers seeded and pith scraped out

2 to 3

tablespoons

olive oil

Salt and ground black pepper

3

cups

Lentil-Walnut Mix Base

2

cups

cooked rice (Here's our recipe: Pot of Rice)

2

cups

Simple Tomato Sauce

1 1/2

teaspoons

Italian seasonings
Instructions
Heat oven to 425 degrees. Brush the insides, outsides and tops of each pepper with oil and season with salt and pepper; place in a baking pan.

Meanwhile, mix Lentil-Walnut Mix, rice, Simple Tomato Sauce, and Italian seasoning, and a sprinkling of salt and pepper. Taste and adjust seasonings. Fill each pepper with a portion of filling. Drizzle 1/4 cup of water in the pan and cover with foil. Bake until heated through and peppers are tender, about 30 minutes. Turn oven control to broil. Remove pan from oven and foil from pan. Sprinkle peppers with parsley and return to oven. Broil until well brown, 3 to 5 minutes. Serve.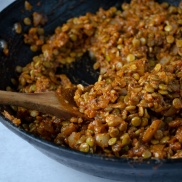 Lentil-Walnut Mix Base
Yield:
3
pounds (about 9 cups)
Recipe Notes
You can toast the walnuts one of two ways. You can toast them in the oven (a toaster oven is ideal for small quantities of nuts) at 325 degrees until fragrant and slightly darker in color, about 10 minutes. If you watch them carefully, you can also toast them stovetop in a large skillet over low heat, stirring frequently, until fragrant and slightly darker in color, 10 to 15 minutes. Don't be tempted to increase the heat—you'll be sorry!
You can chop the walnuts in the food processor-just pulse in short bursts until they are finely chopped, but not ground.
Ingredients
1

pound

regular brown lentils

Salt

3

cups

walnuts,

toasted and finely chopped
Instructions
Soak lentils in 6 cups of cold water and 1 tablespoon of salt for 4 hours and up to 24 hours.

Drain lentils and turn them into a large (12-inch) skillet with 1 cup of water. Cover and bring to full boil over high heat; reduce heat to medium-high and continue to cook, covered, until water has mostly evaporated and lentils are just cooked through, 3 to 4 minutes. Remove from heat and let stand, covered, a minute or so longer.

Mix lentils and walnuts and proceed with any Lentil-Walnut Mix Jumpstart recipes. Can be refrigerated up to a week or frozen for a couple of months.