A salad made with Roasted Spring Vegetables can be as simple as drizzling a big mound of them with lemony Versatile Vinaigrette. But Spring Panzanella makes a bright, fresh, wonderfully satisfying main course. This salad starts with Roasted Spring Vegetables, including a few roasted potatoes to give it some heft, but there's so much more. These roasted vegetables are held in relationship with peppery arugula, given texture with rustic homemade garlicky croutons, and brought to life with a generous handful of fresh dill and mint.
Dress it Up
With the explosion of flavor and texture in this salad, there's no need for formal dressing. Just drizzle the salad with olive oil along with a sprinkling with salt and pepper. (You don't need much because the croutons and roasted vegetables have already been oiled, salted, and peppered.) Before adding the lemon juice, grab a few arugula leaves and taste them. Are the leaves lightly coated with olive oil and pleasantly seasoned with salt, and pepper? If not, adjust. And if so, then squeeze in a little lemon juice—a tablespoon or so—and taste again. If it's right, serve it up. And if it's not, continue adding lemon juice until it's to your taste. Go slowly with the lemon juice. It's easy to add more but impossible to take it back.
Adding the Crunch
The garlicky croutons elevate this salad. But if you're in a hurry and don't have time to make them, you can always toss in a couple of handfuls of crushed, unflavored pita chips. We always keep a bag around for times when we need crunch quick.
Fresh Herbs in Panzanella
Because fresh herbs can be expensive, we like making them optional, but they very much make this salad. Taken care of, both dill and mint last a long refrigerator life, but if you can only purchase one fresh herb, that's fine. Choose your favorite or the one you think you'll use the most.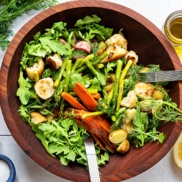 Spring Panzanella
Recipe Notes
If you have a microplane, use it to grate the garlic.
Ingredients
2

heaping cups

torn bread from a European-style chewy loaf

1/4

cup

olive oil,

divided

Salt and ground black pepper

1

clove

garlic,

finely grated

1

bag (about 5 oz)

arugula

1/2

small

red onion,

thinly sliced

1/2

recipe

each: carrots, asparagus, potatoes, and radishes (or fennel) from Roasted Spring Vegetables

1/2

cup

each: fresh mint and dill leaves

Up to 2 tablespoons juice from a large lemon
Instructions
Heat a large skillet over medium heat; toss bread with 1 1/2 tablespoons of oil, a pinch of salt, and a few grinds of pepper. Reduce heat to medium-low and add bread to hot skillet; toast, stirring frequently, until bread is crisp and spotty brown, about 10 minutes. Turn off skillet and add garlic, stirring to help the garlic gently perfume the croutons.

Place arugula, red onion, roasted vegetables, mint, and dill in a large salad bowl. Drizzle with remaining olive oil and season with salt and pepper. Toss to coat; taste and adjust seasonings. Drizzle in a tablespoon or so of lemon juice. Toss to coat; taste and adjust seasonings drizzling in a little more lemon juice as needed.