Since a pan of roasted spring vegetables usually yields three easy meals, we should all make a practice of roasting a pan nearly every week. And as the days get longer and warmer, it's time to shift from winter's root vegetables and Brussels sprouts to spring's leeks and baby potatoes, young carrots, radishes, fennel, and asparagus.
In developing Roasted Spring Vegetables, I've discovered just how many spring vegetables can fit on one pan, and it's a lot! Even accounting for some weight loss when trimming the leeks and snapping the asparagus, you can still roast nearly five pounds—that's right—five pounds of vegetables on one rimmed baking sheet.  That will carry you a long way towards getting dinner on the table night after night.
Make it A Double
With five Roasted Spring Vegetable recipes, you may be tempted to roast two pans.  If so, here's how to do it: roast one pan on the bottom oven rack and the other on the upper-middle position. Increase the total cooking time to thirty minutes, adding thick asparagus at 20 minutes, medium asparagus at 22 minutes, and thin asparagus at the 25 minutes mark.
You also might want to roast more leeks depending on what you're using the vegetables for. If you want to make both the Heat-and-Serve Leek and Potato Soup and the Roasted Leek and Potato Galette, you'll need more leeks. You can double the leeks and use a second pan or you can swap out the radishes for a second helping of leeks.
Turning Roasted Spring Vegetables into Dinner
One of the dishes we're most excited is Heat-and-Eat Leek and Potato Soup, which I discovered quite by accident, and you can read about above the recipe. Yes, Super-Quick Kimchi-Tofu Soup is fast, but if you've made a pan of Roasted Spring Vegetables, this one is even faster! We're hooked, and we know you will be too. You really need to make this soup.
We've also developed a wonderful main-course bread salad, Spring Panzanella. With a supporting cast of arugula, fresh dill and mint, and rustic, garlicky croutons, this salad will become part of your regular spring salad rotation.
We tossed these roasted vegetables with our Velvety Cauliflower Alfredo and pasta and voilá- Pasta Primavera on the table in about ten minutes. This recipe demonstrates just how efficiently the Capsule Kitchen works.
It may be hard to believe, but if you have your leeks and potatoes roasted, a gorgeous, fancy Roasted Leek and Potato Galette with Feta and Walnuts can be yours for weeknight dinner.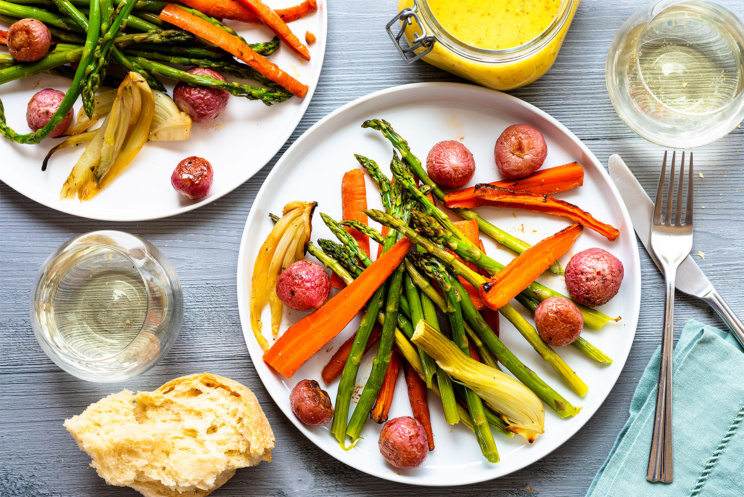 We've recently moved from Standard to Daylight Savings Time and enjoyed a few 70° afternoons. Spring is decidedly on its way, so it's time to use up the last of the winter squash and sweet potatoes and start picking up leeks and radishes, asparagus, and fennel. Roast up a pan and see how easy it is to make beautiful spring fare.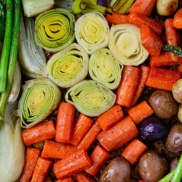 Roasted Spring Vegetables
Recipe Notes
Add thick asparagus after 15 minutes of roasting, medium asparagus, at 17 minutes, and thin asparagus, at 20 minutes.
Ingredients
1 1/2

pounds

baby potatoes

1

pound

radishes,

ends trimmed or fennel, trimmed, halved, and each cut into 8 to 12 wedges

1

pound

carrots,

peeled and cut into long, chunky sticks

1

bunch

leeks,

(about 1 1/2 pounds) cut into 1-inch lengths, thoroughly washed, thick dark greens leaves snipped off and discarded

5

tablespoons

olive oil,

divided

Salt and ground black pepper

1

pound

bunch asparagus,

tough ends snapped off*
Instructions
Adjust oven rack to lowest position and heat oven to 500 degrees. Place vegetables (except asparagus) in a more or less single layer on a large (18- by 12-inch) rimmed baking sheet. Drizzle with oil and season with salt and pepper; shake pan gently rubbing veggies to coat. Set pan in hot oven for 25 minutes.

Meanwhile, toss asparagus with remaining oil and season with salt and pepper. Add asparagus at the appropriate time (see note above) and continue to roast until asparagus is tender-crisp, and remaining vegetables are golden brown for a total cooking time of 25 minutes.