Whether you use instant or quick, polenta (or grits) make for a very satisfying, quick supper. But, you need a way to jazz them up. Look no further for inspiration. Just as its name implies, instant polenta is essentially just that. Once you bring a pot of salted water to boil, simply whisk in the polenta. In just a minute or two, the grains swell, transforming the pot of boiling water into a wonderful, neutral base that can be flavored and topped in a myriad of ways.
We offer three Flavorful Polenta Bowls—Corn and Roasted Pepper, Spinach, Sun-Dried Tomato Pesto, and Scallion, and Pesto and Peas. And we love to top polenta with our Mushroom Bourguignon, a recipe we guarantee will become your new Planetarian Beef Stew. Finally, for a show stopper, we have a Baked Polenta with Roasted Eggplant and Olives. This layered polenta cake is gorgeous and deceptively easy to make.
And if you want a twofer out of the deal, just double the recipe for A Big Pot of Flavorful Polenta, pouring off half into two 9-inch cake pans to firm up and use in Baked Polenta with Roasted Eggplant and Olives for special dinner later in the week. Flavor or top the remaining polenta for dinner tonight—another smart strategy for getting plant-based meals on the table with ease.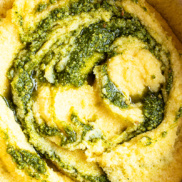 A Pot of Flavorful Polenta
Recipe Notes
*If you would prefer to use quick polenta or grits, simply increase the cooking time to five minutes.
Ingredients
1

tablespoon

fine salt

1 1/4

cups

instant polenta*

1/4

cup

Sun-Dried Tomato or Basil Pesto or 2 tablespoons each: plant butter and nutritional yeast
Instructions
Bring 5 cups of water to boil in a large pot. Whisk in salt and polenta; continue to whisk until polenta thickens, just a couple of minutes. Stir in pesto (or butter and nutritional yeast).