Pasta Primavera exemplifies just how efficiently the Capsule Kitchen works. Early in the week, you roast a big pan of spring vegetables. With one piece of dinner made, you won't need to ask what's for dinner, because if it's Pasta Primavera, the vegetables are already cooked.  To get dinner on the table, you'll boil pasta and make Velvety Cauliflower Alfredo, a creamy sauce that comes together in about ten minutes. And that's not all! There are enough Roasted Spring Vegetables to start another dinner or two later in the week.
Giving the Alfredo Some Zip
To give the Velvety Cauliflower Alfredo a bright fresh feel, grate a couple of teaspoons of zest from a lemon—a microplane works well—and add it to the sauce in place of the nutmeg. Once the zest has been removed, cut the lemon in half and squeeze juice to taste to further heighten flavor when tossing the pasta.
Veggies: The More the Merrier
In addition to the Roasted Spring Vegetables in this dish, we like adding a cup of green peas to the pasta during the last few minutes of cooking. Not only do the peas give the pasta a bright green color, but—together with the pasta—these legumes complete the protein in this veggie-rich spring main course.
Complete Your Pasta Primavera with Fresh Herbs
Although we haven't added fresh herbs to the ingredient list, a handful of chopped parsley or basil wouldn't hurt. Nor would a couple of tablespoons of some of the more potent fresh herbs like dill, mint, or tarragon, alone or in combination with parsley or basil.
We like the pale pink hue the roasted radishes bring to the primavera, but the roasted fennel is equally delicious. Carrots add great color too, but if you happen to have roasted leeks, which are in high demand for some of the other Planetarian dishes calling for Roasted Spring Vegetables, they're wonderful in this pasta dish as well. You really can't go wrong!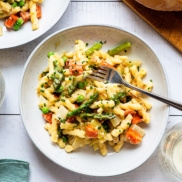 Pasta Primavera
Recipe Notes
Ingredients
1

recipe

Velvety Cauliflower Alfredo flavored with 2 teaspoon finely grated lemon zest instead of nutmeg

1

cup

frozen green peas

1/2

of the asparagus, radishes (or fennel), and carrots from Roasted Spring Vegetables cut into bite-size pieces

1/2

cup

thinly sliced scallion greens

1/2

cup

Parmesan cheese,

dairy- or plant-based, plus extra for sprinkling

Lemon juice

Salt and ground black pepper
Instructions
Follow recipe instructions for Velvety Cauliflower Alfredo, adding peas to the boiling pasta the last couple of minutes. Drain pasta and return it to the pot. Add Roasted Spring Vegetables and cook to heat through, a couple of minutes. Add Alfredo sauce; toss to coat. Stir in scallion greens and Parmesan and season with lemon juice, salt, and pepper to taste. Serve, sprinkling with extra Parmesan, if you like.