Few of us have enough refrigerator space to hold one of those puffy balloon-size bags of grocery store kale or even those bulky bunches. If you take a little time when you get home from the store to remove the stems, tear the kale into bite size pieces, and then massage it with a little oil, you accomplish three things – you dramatically reduce the kale's bulk (and therefore increase precious refrigerator space), you help it stay fresher longer, and you have a bag of prepared greens ready to instantly make salads, and to stir into soups, beans, and grains.
Make a simple salad dressed with Versatile Vinaigrette or add it to your Pearl Couscous & Veggie Pot.
How to prepare different varieties of kale?
Kale varies from bag to bag and bunch to bunch. One week you go to the store or farmer's market and the leaves are delicate and tender, the next week they're rough and tough.
For the bagged variety, simply dump it into a large bowl or onto the counter and start pulling out the stray stems. Next, pull the leaves that are still attached to big stems, setting aside those stems with the strays.
For bunches of thick woody kale, work one stem at a time, holding the leaf, stem end up, with one hand. With the hand, use a sharp knife to slash down each side, machete-style, to remove the leaves.
For bunches of kale with thin stems and delicate leaves, simply pinch or strip the leaves from the stems by hand.
Eliminating Massaged Kale Waste: Using Kale Stems
As kale varies, so do the measurements, but a pound of kale, on average, yields ten ounces of kale or 2 packed quarts (8 cups) of massaged kale. At first glance there appears to be a lot of waste in a pound of kale—six ounces of stems for every ten ounces of leaves, until you realize the stems are edible!
There was a time when we mostly composted our stems, but increasingly we are squirreling them away. We cut them into bits, to add bulk to salads and soup. When you cut kale stems into bite-size pieces and sauté them, they're delicious! 
Here's how we cook them: Heat enough olive oil to coat the bottom of a skillet over medium-high heat. When the oil gets hot, add the stems and sauté until tender-crisp, 4 to 5 minutes. At this point, add a minced garlic clove or two and sauté another minute or so. Then, season with salt, pepper, and a squeeze of lemon juice. You can also use them to make Greens and Grains Quick Skillet Dinner.
Prepared this way, there's not an ounce of waste in a pound of kale.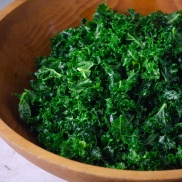 Massaged Kale
Recipe Notes
Ingredients
1

pound

bag or bunched kale

2

tablespoons

olive oil
Instructions
Here's how to prepare kale for massaging: For bagged kale, remove stray stems and pull kale from the thick woody stems. For bunched mature kale: slash down both sides of the stems with a sharp knife. For bunched young kale, strip the leaves off the stem by hand.

Tear stemmed kale into bite-size pieces. For a two-pound bag of kale (or larger quantities of bunched kale) work in 1-pound batches.

Drizzle 2 tablespoons of olive oil over prepared greens. Vigorously rub the greens with your fingertips until they have softened and reduced in volume. Stuff the greens in a gallon-size zipper lock bag, pressing all the air from the bag before sealing it. Depending on the kale's freshness, it can be refrigerated a week or more.