Given the unpredictability of our schedules—especially during the week—we never know from day to day whether there'll be time for an on-the-fly, sit-down breakfast or whether we'll need to grab something for the road. For this reason, we try to keep a few jars of Satisfying Overnight Oats in the fridge. This makes life easy when we need an instant healthy breakfast the kids will eat.
Make Them the Night Before
These make-ahead breakfasts only take about five minutes to assemble the night before. And when you rise the next morning, you're more relaxed, because you know breakfast is ready. In the warmer months, just screw off the lids, let everyone add their favorite toppings, and serve. In the cooler months, warm them in the microwave before topping and serving
Topping your Overnight Oats
Kids especially love choosing their own toppings for Satisfying Overnight Oats. One of our favorites is the super quick Mixed Berry Sauce. For a little chocolate flair, add a tablespoon of cocoa powder per serving during assembly. (From our experience kids will eat just about anything if there's chocolate in it!)
Typically, when we eat hot or cold cereal for breakfast, we're always starved by mid-morning. Not so with Satisfying Overnight Oats. Thanks to the nut butter, Satisfying Overnight Oats keeps us happy until lunch.
There are plenty of people who enjoy the same breakfast day after day. That's not us, but as long as we change up the toppings we can enjoy these oats several mornings a week. We'll do blueberries and walnuts one morning, bananas and pecans the next day, grated apple and hazelnuts on another. Once assembled, Satisfying Overnight Oats can be refrigerated for several days, so on Sunday night, make as many as you'll think you'll need for the week.
At the end of the week if you find yourself with leftover jars of overnight oats, let the kids stir in chocolate chips or top with Mixed Berry Sauce for a fun, healthy snack or dessert.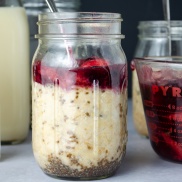 Satisfying Overnight Oats
Recipe Notes
If you want to give it a little chocolate flair, add 1 tablespoon of cocoa powder when assembling.
Oatmeal Topping Suggestions:
- Fresh berries, grated or finely diced apple, sliced bananas, diced peaches, mangos, or pears
- Dried fruits like raisins, cranberries, blueberries, or apricots
- Toasted chopped nuts like pecans, walnuts, almonds, hazelnuts, pistachios
- Ground Cinnamon or cardamom
- Mixed Berry Sauce
Ingredients
1/2

cup

old-fashioned oats

1

tablespoon

each: chia seeds, nut butter, maple syrup (or agave or honey)

3/4

cup

plant-based milk (nut or oat, your choice),

plus extra for drizzling.
Instructions
Pour oats in a pint-size (2-cup) jar. Add chia seeds, nut butter, and sweetener. Pour in milk of choice and stir gently to soak the oats. Screw on lid and refrigerate overnight. Your oatmeal is now ready to serve as a cold or hot cereal.

To heat the oatmeal, remove the lid and microwave on high power for 1 minute. Stir so that oatmeal heats evenly and then microwave on high power for 1 minute longer. Add milk to loosen and enrich and top with dried or seasonal fresh fruit, toasted nuts, and/or a sprinkling of cinnamon. Drizzle with extra sweetener if you like!