On a recent podcast, Maggy, Laura, and I were talking about our favorite Thanksgiving dishes. We all pretty much agreed that we're like a lot of people. If the sides are good, we don't need a big roast turkey to feel like we've celebrated Thanksgiving. But later in the show when asked my favorite Thanksgiving dishes, I had to admit mine were crispy turkey skin and mashed potatoes. So, I must have had crispy turkey skin and mashed potatoes on the brain when I decided to develop Garlic Smashed Potatoes.
These crushed potatoes are pleasantly mild, decadently crisp, and an appealingly greasy substitute for my favorite turkey part. Lord knows I've attempted turkey stand-ins in the past. One year it was roasted whole heads of cauliflower. Visually, they worked but seriously lacked delectability. I wanted a dish that offered up those irresistible crispy bits that can be picked at before, during, and after the big meal.
Fortunately, Garlic Smashed Potatoes passed the test. They're officially my new favorite plant-based roast turkey substitute. And they're way easier to make than a big turkey!
Choosing the Right Size
Most smashed potato recipes (some recipes call them smashed) call for small potatoes, but for this special meal I wanted them bigger.
Go with medium yellow or golden potatoes, which offer great color and the right amount of starch. You usually get a mix of sizes in a five-pound bag, but there should be eight or so medium ones, which should weigh around three pounds. Boil them, skins on, in a large pot until they're just tender when pierced with a thin-bladed knife, which should take around thirty minutes. After you drain the potatoes, turn them onto an oiled large (12- by 18-inch) rimmed baking sheet, and crush each one. You can use a large serving fork, but a potato masher works best.
Baking Smashed Potatoes
All that's left to do is drizzle them with oil and a generous sprinkling of salt and pepper, and they're ready for the oven. Set them on the lowest oven rack, so their bottoms crisp up well. After twenty minutes, pull them out, and spread them with garlic paste and a sprinkling of herbs. (If you add them any sooner, they tend to burn.)
The only thing you'll probably regret is not making two pans. (BTW, Crushed Garlic Potatoes crisp up well the next morning in skillet over low heat.)
Now, when asked my favorite Thanksgiving dish, my enthusiastic response is: Garlic Smased Potatoes!
Other Thanksgiving Dishes
In addition to these smashed potatoes, we're dishing up a fresh Green Bean Casserole, "Sausage" Stuffing, Sweet Potato Boats, and a delicious Pear-Apple Crumble for dessert.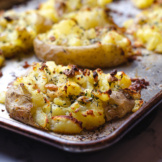 Print
Crispy Garlic Smashed Potatoes
Serves 4 as a main course, and 8 as a side dish.
If you prefer to make smaller potatoes, you can fit 16 (totaling about 2 pounds) on a large, rimmed baking sheet. For these smaller potatoes, you can cut back a little on the oil.
Materials
8

medium

yellow potatoes

(about 3 pounds)

3

tablespoons

smashed cloves and 6 tablespoons oil from Quick "Roasted" Garlic

2

tablespoon

minced fresh thyme leaves or 2 teaspoons dried

Salt and ground black pepper
Instructions
Bring potatoes, with water to cover, to boil over medium-high heat in a large, covered pot. Reduce heat to medium-low and continue to boil until potatoes are just tender, about 30 minutes. While potatoes boil, adjust oven rack to lowest position and heat oven to 450 degrees. Drain the potatoes and turn onto a large, oiled baking sheet. Use a potato masher to crush each potato. Drizzle with oil and sprinkle with salt and pepper. (Can be covered and refrigerated overnight; bring to room temperature.) Bake until crisp and golden, about 20 minutes. Remove from oven and spread a portion of garlic and sprinkle a little thyme over each potato. Return to the oven and continue to roast until golden brown, about 10 minutes longer. Serve immediately.