My younger daughter, Sharon (Maggy's sister), could take or leave the Thanksgiving turkey. She in it for the stuffing and always wants to make sure we've made enough so she can have her fill. (In her younger years, she was known to eat so much stuffing that she'd crawl under the table after the big meal and roll around to relieve her discomfort.) Me? I love stuffing too. And it's no secret that as a daughter of the South, I love pork, which I still enjoy on occasion. I wanted to make a Festive "Sausage" Stuffing that was tempting enough to leave Sharon rolling on the floor and "meaty" enough to satisfy my Southern roots.
"Sausage" Stuffing without the Meat
My favorite stuffing always starts with a little ground Italian sausage. Since I'm always looking for ways to reduce my meat consumption, I tried making my old stuffing recipe with Morning Star sausages, my favorite Planetarian brand. A combination of the sausage and a little chopped or ground fennel seeds mimicked the Italian sausage quite well.
My old stuffing recipe relied on a combination of breadcrumbs and eggs to bind the stuffing. I tried subbing in chia seeds for the eggs and that worked too. I continue to be amazed at how easy it is to convert our favorite traditional recipes to more plant based without any sacrifice.
Cutting Down Oven Time
As we continue to look for ways to reduce oven time, it's very easy to bake this festive stuffing alongside Pear-Apple Crumble. If you decide to make them both for your holiday dinner, and your oven is wide enough, bake them both on the upper-middle position. If your oven isn't large enough to accommodate them on the same rack, bake the Pear-Apple Crumble on the upper-middle level and the stuffing on the lowest level, broiling it for a minute or so if it's not as brown as you like.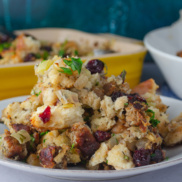 Festive "Sausage" Stuffing with Cranberries
Recipe Notes
Ingredients
1

pound

crusty Italian or French bread,

torn into bite-size pieces (10 to 12 cups)

2

cups

fresh breadcrumbs from a crusty French or Italian loaf,

a food processor fitted with the steel blade works well

12

ounces

frozen vegetarian sausage patties

(Morning Star is our favorite brand)

3

tablespoons

olive oil

2

medium

onions,

cut into medium dice

2

medium

celery stalks,

cut into medium dice (about 1 cup)

1

cup

dried cranberries

1/2

cup

chopped fresh parsley leaves

1

teaspoon

each: dried rubbed sage, dried thyme leaves, and chopped fennel seeds

3/ 4

teaspoon

salt

1/2

teaspoon

ground black pepper

2 1/2

cups

vegetable broth,

your choice

2

tablespoons

chia seeds
Instructions
Spread bread chunks in a single layer on a large, rimmed baking sheet and breadcrumbs on a small, rimmed baking sheet; let dry several hours or overnight. Adjust oven rack to upper-middle position and heat oven to 400 degrees. Bake bread cubes until toasty, 12 to 15 minutes. (Do not toast crumbs.) Reduce oven temperature to 375 degrees.

Meanwhile, heat a splash of oil over medium-high heat in a 12-inch skillet; add sausages and cook, turning once, until crisp and brown, 5 to 7 minutes. Remove sausages from skillet, cool slightly, and then cut them into small dice. Return skillet to medium-high heat and add the oil. Add onions and celery; sauté until soft, 8 to 10 minutes. Mix bread, sausages, sautéed onions and celery, raisins, parsley, sage, thyme, fennel, salt, and pepper in a large bowl. Whisk broth and chia seeds; let stand 5 minutes for chia to hydrate. Add to stuffing mixture and toss to coat.

Turn into a 3-quart greased baking dish (a 13- by 9-inch works well). Cover with foil and bake until steamy hot, about 30 minutes. Remove foil; continue to bake until top is crusty brown, about 10 minutes longer. Serve.