In the past few weeks, I've made this Pearl-Apple Crumble several times, so I've gotten to know it well. I love the combination of pears and apples—a soft, succulent pear in one bite, a firm, slightly tart apple in the next, all blanketed with a crisp oatmeal topping.
Abundance of Fruit
I live five minutes from a fruit orchard. In the summer they feature all the stone fruits—white and yellow peaches and nectarines, apricots, and several varieties of plums. Fall is their big season. They grow crates and crates of apples and pears of all varieties.
For a price, you can buy small baskets of these beautifully pristine fruits, or you can turn right as you walk in the door and head straight for the seconds, which are still pretty perfect. I've never weighed what you get, but I'm guessing it's a good seven to eight pounds of fruit for five bucks.
Recently I went in and couldn't resist buying a basket each of apples and pears. What to do with so much fruit?
Pear-Apple Crumble, the Planetarian Way
I love baking pies, but they're a project. Instead, I wanted to make an easy fall plant-based, on-the-fly dessert. Fruit crumble immediately came to mind, and because it's just a fruit base and a crumble topping, converting the classic Apple Crumble from conventional to plant-based wasn't hard.
There was nothing in the fruit part of the crumble that needed adjusting, although I did use better-for-you coconut sugar instead of cane and opted for cornstarch instead of flour as the thickener, making it work for those who need gluten-free.
For the crumble, I made it first with a combination of coconut sugar and coconut oil, but the topping was too sandy textured. I preferred one that was more crumbled. For comparison, I made one of my old crumble topping recipes made with butter and brown sugar, which was perfect. I made a second crumble with coconut oil and brown sugar, which was not as clumpy as the one made with butter and brown sugar but was much clumpier than the one made with coconut sugar and oil.
When I'm looking for a project, I'll make pie, but for when I need a crowd-pleasing fall dessert for a big group, this is my new go-to.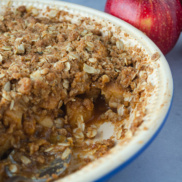 Pear-Apple Crumble
Recipe Notes
Ingredients
2

pounds

each: apples and pears,

peeled, cored and cut into large chunks

1/2

cup

coconut or dark brown sugar

2

tablespoons

cornstarch

2

tablespoons

juice and 1 teaspoon finely grated zest each from an orange and a lemon

1

teaspoon

ground cinnamon

1/4

teaspoon

ground nutmeg
Crumble
1 1/2

cups

all-purpose flour

1

cup

old-fashioned oats

1

cup

dark brown sugar

1

teaspoon

cinnamon

1/4

teaspoon

salt

3/4

cup

coconut oil
Instructions
Adjust oven rack to lower-middle position and heat oven to 375 degrees. Carefully mix apples, pears, sugar, cornstarch, orange and lemon juice and zest, cinnamon and nutmeg with your hands in a 13- by 9-inch baking dish (or mix in a large mixing bowl and dump into the baking dish).

For the crumble: Mix flour, oatmeal, sugar, cinnamon, and salt in a medium bowl. Add oil; mix with your hands, pressing to form small clumps, until well combined. Sprinkle evenly over pear-apple mix. Bake until golden brown and bubbly, about 45 minutes. Let cool slightly and serve. (Can be made a day ahead, stored and room temperature and warmed in a 300-degree oven for 15 minutes.)