There's always the option to toss a salad with olive oil, salt, pepper, and vinegar but it's nice to have homemade vinaigrette. It's especially good for tossing salads made with sturdy greens like kale or for drizzling over single or paired vegetable salads like a plate of asparagus, hot off the grill or a platter of warm roasted root vegetables.
We regularly make different kinds dressings, but Versatile Vinaigrette and Balsamic Vinaigrette are the two we make most often.
An easy formula you can memorize
The great thing about this simple vinaigrette is that if you take time to internalize the formula, you can make it by heart for the rest of your life. And it's simple to learn! It starts with a minced garlic clove or shallot, 1/4 cup vinegar (your choice), 2 tablespoons rice wine vinegar, 1/4 cup of Dijon mustard, a sprinkling of salt and pepper, and then finally, 1 cup of extra-virgin olive oil.
Types of vinegar you can use
This formula works with whatever variety of vinegar you have on hand including:
Red wine vinegar
White wine vinegar
Champagne vinegar
Sherry vinegar
Fresh lemon juice works, too!
No need to seek out specific vinaigrette recipes for each of these acids—one formula fits all.
Richer, sweeter balsamic vinegar is slightly different, and we offer another recipe for Balsamic Vinaigrette, but note that except for the higher ratio of vinegar to oil, the same formula is the same.
Why two vinegars in Versatile Vinaigrette?
On their own, most vinegars are one dimensional and a little puckery. Mild, sweet rice wine vinegar rounds out the acidity and tames the flavor. The hefty scoop of Dijon mustard ensures the vinaigrette emulsifies and continues to hang together even after weeks in the fridge. Don't forget a nice big pinch of salt and several grinds of pepper. Now it's time to introduce good, extra-virgin olive oil.
How to make vinaigrette
Depending on our mood, we make this dressing in one four ways. They all work well, and the method is the same. Start by mixing the garlic (or shallot), vinegars, Dijon mustard, the big pinch of salt and several grinds of pepper, then slowly mix in the oil.
Maggy tends to make vinaigrette in the blender. Since my blender lives in a cupboard and my food processor sits on the counter, I often opt for the latter. But I frequently use the hand mixer method because I can measure and blend vinaigrette in a single Pyrex measuring cup. If I'm on vacation in an ill-equipped rental, I know I can always whisk vinaigrette by hand.
Make a big batch for the week
Making salad a regular on your lunch and dinner menu becomes easy if you've got a really good vinaigrette in the fridge. Whip a batch and see what happens. My guess is that you'll see the value of having good vinaigrette on hand. So take the time to internalize the formula. And the best way to do that? Practice!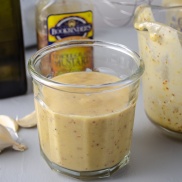 Versatile Vinaigrette
Recipe Notes
Versatile Vinaigrette is the dressing we most use. The formula works for lemons as well as most any vinegar including red wine, white wine, and sherry vinegars. Mild, sweet rice wine vinegar also called for in the formula rounds out the more acidic ingredients and the hefty scoop of Dijon mustard ensures an appealing, emulsified dressing.
Ingredients
2

large

garlic cloves (or 1 large shallot per 2 cloves of garlic),

minced

1/4

cup

fresh lemon or lime juice, red wine or white wine vinegar, or sherry vinegar

2

tablespoons

each: Dijon and whole grain mustard

2

tablespoons

rice wine vinegar

Salt and ground black pepper

1

cup

extra-virgin olive oil
Instructions
Whisk or blend garlic, lemon juice or vinegar, mustard, rice wine vinegar, a big pinch of salt and several grinds of pepper in a medium bowl or—if you've got one— a 1 quart liquid measuring cup, or a blender canister. Slowly whisk in the oil (I frequently pull out my hand mixer fitted with the whisk attachment) or process it in the blender, first in droplets then in a steady stream to make thick vinaigrette. Pour into a jar and refrigerate. (Can be refrigerated up to 1 month.)