Sheet pan dinners are popular because they're a super easy, relatively hands-off way to get dinner on the table. Most people prefer sheet pan dinners that have fish, poultry, or meat that cooks in the same amount of time as the sides. The challenge with plant-rich sheet-pan cooking is you don't have that piece of fish, chicken part, or cut of meat to anchor the meal. But, we've done some research and testing to come up with some very tasty options. Our Sheet Pan Gnocchi with Mushroom-Feta Sauce leaves nothing to be desired and is every bit as easy and hands-off as any sheet pan dinner.
Our sheet pan dinners are not formulaic, but here's what they do have in common. First, it's all about getting the dinner in and out of the oven as quickly as possible. So, the roasting temperature is a super-charged 500-degree oven. At this temperature, you can cook much of the meal in about twenty minutes. Some ingredients like green vegetables will cook in about ten minutes. Others—like potatoes and onions—take about ten minutes longer to caramelize and brown.
In this Roasted Sheet Pan Gnocchi with Mushroom-Feta Sauce, everything roasts together in twenty minutes. You'll have crisp and golden gnocchi on one side and a wonderful sauce on the other made from mushrooms, tomatoes, and feta.
Instead of having to sauté the gnocchi in skillet, and use a separate pan to make a sauce, this recipe allows you to create both, right on the same pan. Once you prepare the ingredients and get them on the roasting pan and into the oven, you're done. Simply remove the pan from the oven, give the ingredients a stir and serve it up.
The Feta Cheese
You can use either plant-based or dairy feta here. Just bury the cheese in the roasting tomatoes an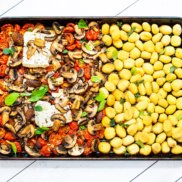 Sheet Pan Gnocchi with Mushroom-Feta Sauce
Recipe Notes
Ingredients
2

packages (12 oz each)

skillet gnocchi

6

tablespoons

olive oil

1

pound

each: halved cherry tomatoes and sliced mushrooms

2

tablespoons

balsamic vinegar

4

large cloves

garlic,

minced

2

teaspoons

dried basil

1

teaspoon

dried oregano

Salt and ground black pepper

7 to 8

ounces

feta cheese plant-based or dairy
Instructions
Adjust oven rack to lowest position and heat oven to 500 degrees. Toss gnocchi with 2 tablespoons of oil and turn onto a large (12- by 18-inch) rimmed baking sheet. Toss mushrooms with another 2 tablespoons of oil, half the vinegar, garlic, basil, oregano, and a generous sprinkling of salt and pepper and turn onto to rimmed baking sheet. Repeat with tomatoes and remaining vinegar, oil, garlic, basil, oregano, salt, and pepper. Scatter mushrooms over tomatoes. Halve the feta and bury each piece into the tomatoes and mushrooms.

Roast until gnocchi are golden and mushroom and tomato juices are bubbly, about 20 minutes. Remove from oven. If you've used plant feta, it will have melted and mixed with the juices to make a flavorful sauce. If you've used dairy feta, use a fork to break up the block. Toss gnocchi with tomato-mushroom mixture. Taste, adjust seasonings, and serve immediately.
d mushrooms. The plant-based feta melts and turns into a flavorful sauce. The dairy feta, holds its shape, so as you mix the dish before serving, you'll need to mash it up and mix it in.