When you're in the mood for a comforting, plant-rich dish that's bursting with flavor, look no further than delicious Planetarian Mushroom Stroganoff, a rich, creamy festive dish that serves six and can be customized to your liking. Whether you're serving it over egg noodles, rice, barley, or bite-sized pasta, this stew is sure to warm the belly and satisfy the soul.
Vegan Mushroom Stroganoff is a meat- and dairy-free twist on the traditional Russian favorite, Beef Stroganoff. The creaminess in this vegan rendition is achieved with coconut milk in place of cream. Mushrooms take center stage, providing a hearty texture and a deep umami flavor that guarantees a delightful meal.
Besides mushrooms, this stroganoff features sautéed onions and garlic for a mix of sweet and savory notes. Fresh dill contributes to the complexity of the dish's flavor while soy and Worcestershire sauce add depth of flavor.
Vegan Mushroom Stroganoff is a versatile, festive enough to serve at a nice dinner party and comforting enough to enjoy for Sunday supper. Serve with your favorite noodles, such as fettuccine, eggless tagliatelle, or even gluten-free pasta, making it work for a variety of dietary preferences.
This dish is not only a crowd-pleaser but also a comforting, wholesome meal that highlights the culinary potential of plant-based cuisine. Whether you're a vegan or looking to reduce meat consumption, Planetarian Mushroom Stroganoff is a delicious option that proves plant-based cooking can be equally gratifying. Try this recipe today and savor the rich flavors of this meaty classic turned plant-based.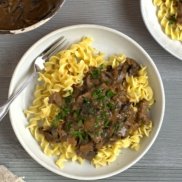 Mushroom Stroganoff
Recipe Notes
Some large skillets are deep enough to sauté the mushrooms and make the stew in the same cooking vessel. If not, use the skillet to brown the mushrooms, key to the stew's richness, and then when sautéing the onions, switch to a soup kettle to finish making the soup. Of course a 12-inch pot is ideal but not a common size. Serve this rich stew over egg noodles, but it's also good over rice, barley, and bite-size pasta.
Ingredients
2

pounds

mixed mushrooms,

we used a mix of white, portabellas, and shitakes.

6

tablespoons

olive oil

Salt and ground black pepper

2

medium-large onions,

cut into medium dice

6

garlic cloves,

minced

2

teaspoons

each: dried thyme leaves and smoked paprika

1/4

cup

flour

1/2

cup

dry red wine

2

cups

broth (your choice, but mushroom broth if you can find it)

2

tablespoons

each: soy sauce, Worcestershire sauce, tahini, and nutritional yeast

1

can (13.5 oz.) full-fat coconut milk

1/4

cup

chopped fresh dill
Instructions
Heat a large (12-inch) skillet over medium-high heat. Toss half the mushrooms with 2 tablespoons of oil. When the skillet is blistering hot, add half the mushrooms and cook without stirring until impressively brown, about 5 minutes. Continue to cook until most of the mushroom moisture has evaporated, seasoning to taste with salt and pepper, about 3 minutes longer. Turn into a large bowl and set aside. Repeat with remaining mushrooms, another 2 tablespoons of oil, and salt and pepper.

Return skillet to medium-high heat and add remaining 2 tablespoons of oil. Add onions and sauté until soft, 4 to 5 minutes. Stir in garlic, thyme, and paprika and continue cook until fragrant, another minute or so. Whisk in flour, followed by wine and then broth, soy, Worcestershire, tahini, nutritional yeast, mushrooms, and coconut milk. Return to a simmer and reduce heat to medium-low; cook, stirring frequently, until flavors blend, about 10 minutes longer. (Can be cooled, covered, and refrigerated at least a week.) When ready to serve, return to a simmer and adjust seasonings, including salt and pepper to taste. Stir in dill and serve.