I'm not usually one to clip magazine recipes, especially ones from a Costco publication, but there it was: Chocolate Fudge Avocado Cake. Yes, there were eggs in it, but there was no milk, and avocado stood in for the butter, honey for the sugar, and cocoa for dairy-based chocolate. And interestingly, both cake and frosting called for avocados, honey, and cocoa. The recipe also used almond flour instead of regular all-purpose, making it gluten-free. This cake intrigued me. Could a cake that looked this healthy actually taste good? But if it were good, wouldn't it be amazing? Healthy chocolate cake?
Perfecting The Recipe
I decided to give it a try, and I'll be darned if it wasn't just good, it was really good. And this critique is coming from someone who, twenty years ago, developed the ultimate chocolate cake entitled A Chocolate Cake That's Got It All, one of our family classics that featured at scores of special occasions and birthdays, a cake declared by many to be the best chocolate cake they had ever tasted. And here was this young upstart cake—bordering on healthy—challenging my old faithful made delectable without the sugar, sour cream, butter, and chocolate.
My third time making Chocolate Fudge Avocado Cake, it clicked with me why it had so much appeal. As much as I loved my old chocolate cake, I didn't feel so great after eating a slice. Not so with this cake. The other thing this cake had going for it: it's crazy easy to make. You dump all the cake ingredients in a food processor and blend. Same with the frosting. This from-scratch cake is almost as simple as a boxed cake mix.
I set out to make Chocolate Fudge Avocado Cake my own. I ended up making a few changes to the original cake recipe, but not many. Notably, the addition of instant coffee, which imperceptibly heightens the chocolate flavor. I also reduced the cake pan size. The original was baked in 9-inch pans, but I like the slight height lift you get with 8-inchers.
Healthy Chocolate Cake
So here you go. Give this healthy chocolate cake a try and see what you think, not only of its incredibly fudgy taste and moist texture, but how you feel after you eat it. Like me, I'm guessing you'll convert.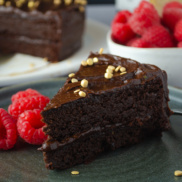 Planetarian Chocolate Fudge Cake
Recipe Notes
Avocados range in size, so yields may vary. If you have extra mashed avocado, just add a little more to both cake batter and frosting.
Ingredients
5

large

avocados, peeled, pitted,

and mashed (1 1/2 cups for the cake 1 cup for the frosting)

1 1/2

cups

honey

(1 cup for the cake and 1/2 cup for the frosting)

1 1/2

cups

cocoa powder (1 cup for the cake and 1/2 cup for the frosting)

1

cup

almond flour

4

large

eggs

1 1/2

teaspoon

vanilla extract

1 1/2

teaspoons

instant coffee

(1 teaspoon for the cake and 1/2 teaspoon for the frosting)

3/4

teaspoon

baking soda

1/2

teaspoon

salt

2

tablespoons

coconut oil
Instructions
Adjust oven rack to lower-middle position and heat oven to 350 degrees. Prepare two 8-inch cake pans spraying them with vegetable cooking spray, lining the pan bottom with 8-inch parchment circles, and spraying the parchment with vegetable cooking spray.

Blend in a food processor 1 1/2 cups avocado, 1 cup honey, 1 cup cocoa powder, the almond flour, eggs, vanilla, 1 teaspoon coffee, baking soda, and salt until smooth.

Divide the batter evenly between pans. Bake until set, 25 to 30 minutes. Remove from oven and set on a wire rack to cool slightly, about 5 minutes. Working one pan at a time, invert cakes onto a plate, then slide cake from plate onto rack to cool completely.

Meanwhile, blend in a food processor, the coconut oil, along with remaining 1 cup avocado, 1/2 cup honey, 1/2 cup cocoa powder, 1/2 teaspoon coffee, and a pinch of salt. Refrigerate until ready to frost the cake. Set first layer on a cake plate; frost top and sides. Top with second layer; frost top and sides. Slice and serve!