---
This is a Variation on a Pesto Pasta Root Formula, a simplified recipe that shows which ingredients
are core and which can be changed to create different flavor combinations or use what you
have on hand. See our other variations at the bottom of the Root Formula page.
---
Dinner is a good place to get your daily dose of vegetables, so Vegetable Pesto Pasta is a regular on our menu. Cauliflower is an easier sell—especially with kids—when tossed with cavatelli. When making Vegetable Pesto Pasta, the following are just a few tips and tricks to ensure your success.
Vegetable Pesto Pasta is one of the Formulas I use most in the Capsule Kitchen. I am never without pesto, either one of our four versions or even store-bought. I am also never without several boxes of pasta in the house. Pesto adds so much flavor and interest to one of my kids favorite foods: pasta. The fact that I can sneak a vegetable in there for a complete 'meal in a bowl' is a bonus. Sometimes it can be difficult to make a meal that all four of us will eat and enjoy, but this is a meal our whole family loves.
Four Different Pestos for Pesto Pasta
We have four different pestos in the Essentials category of the Capsule Kitchen: Lemon Pesto, Sundried Tomato Pesto, Kale-Walnut Pesto, and Basil Pesto (which has a twist to it!). For me, these pestos, which are so quick to make, are like my children – it would be impossible to choose a favorite. They each offer such a different flavor experience, but I will say I most often make the Sundried Tomato version. In a pinch, I will pick up some good quality pesto at the grocery store.
We have created a variation on this root formula for three of the pestos. But, as always, feel free to create your own! Our Variations are Sundried Tomato Pesto Pasta with Broccoli and Spinach, Kale Pesto Pasta with Brussels Sprouts and Squash, and this Basil Pesto Pasta with Asparagus and Peas.
What Kind of Pasta To Use?
For Vegetable Pesto Pasta, I always use bite-sized pasta shapes simply because it's easy for my kids to fork and eat. Though truth be told, I don't have much use for spaghetti in general. My favorite shapes are gemelli, fusilli, and bowties. But you can use any kind of pasta with this recipe.
Why Save Pasta Water?
We save some of that starchy cooking liquid because it helps the pesto to create a 'sauce' that coats every piece of pasta. If you forget to save a cup or two of pasta cooking liquid (as I have been known to do on a hectic weeknight) you can use water or I have even used oat milk, but the starchy liquid gives the pesto 'sauce' nice body.
Using Gluten-Free Pasta
If you're using gluten-free pasta, your cooking liquid might not be as starchy as If you're using gluten-free pasta, your cooking liquid might not be as starchy as it would if you were to use standard pasta. standard pasta. It depends on what type of gluten-free noodles you're using- some types are starchier than others. If your pasta water appears murky, it's starchy and will give you the same result as standard pasta water. If your pasta water appears clear, it probably doesn't have a lot of starch. In that case, you'll get the creamiest results from using oat milk in place of pasta water.
What Veggies Should I Use?
There are a number of vegetables that work well in Vegetable Pesto Pasta. You can use what you have, what's in season, or – as is often the case at my house – what's in the freezer. It's so easy to toss in peas! I often resort to that, especially for my kids. Personally, my favorites are broccoli and brussels sprouts.
Topping Your Vegetable Pesto Pasta
I have said many times that cheeses like parmesan and pecorino are one dairy product that I could never really give up. I don't always use it, but just a sprinkle of cheese adds so much flavor to the dish. If you're vegan or lactose-intolerant, there's plenty going on in this bowl of goodness without adding it.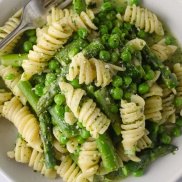 Basil Pesto Pasta with Asparagus and Peas
Recipe Notes
*For pencil-thin asparagus, whack off the tough bottom 11/2 or 2 inches. For thicker asparagus hold the spear in one hand and snap off the bottom with the other hand, letting it break naturally at the tender part. Cut thin asparagus into 1-inch lengths. Halve thick asparagus lengthwise and cut it into 1-inch lengths. 
Here's our Basil Pesto Recipe with a money-saving hack!
Ingredients
Salt

1

pound

bite-size pasta (such as rotini, penne, or ziti)

2

pounds

1 pound each: asparagus* and frozen green peas

1

cup

Basil Pesto

Pecorino Romano or Reggiano Parmegiano for sprinkling,

optional
Instructions
Bring a generous 2 quarts of water and 1 tablespoon of table salt to boil in a large pot. Using back of the box cooking times as a guide, add pasta to the water, stirring several times at the beginning to prevent sticking. The last 4 minutes of the pasta cooking time add the asparagus; cook until bright green and tender-crisp. The last minute, add the peas and return water to a simmer.

With a large bowl under the strainer to catch the liquid, drain the pasta and return it to the pot. Add pesto and up to 1 cup of the reserved cooking liquid; toss to combine. Serve with grated cheese, if you like, and serve immediately.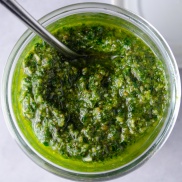 Basil Pesto
Recipe Notes
Buying basil to make pesto is pricy, which is why we suggest using a cup of massaged kale as part of the mix. Using the kale means you don't need as much basil, and yet the pesto loses none of its basil flavor. If you grow basil and have lots to spare, add an extra cup of basil in place of the kale.
Ingredients
1/2

cup

each: pine nuts and pecorino Romano cheese

(or vegan parmesan cheese)

3

cloves

garlic

3/4

cup

olive oil

2

cups

packed basil leaves

1

cup

massaged kale

Salt and ground black pepper
Instructions
Toast pine nuts in a small skillet over medium-low heat, shaking frequently, until lightly brown, 3 to 4 minutes. Transfer to a food processor, along with cheese and garlic; process until finely ground. Add oil, basil and kale; process to paste consistency. Taste and adjust seasonings, including salt and pepper to taste. Can be covered and refrigerated a couple of weeks or more.