We make and eat a lot of pesto in our house. We love pesto because it quickly adds flavor and interest to a dish with virtually no time or effort, so we are always adding new pesto recipes to the Essential category of The Capsule Kitchen. So far we have this Sundried Tomato Pesto, Basil Pesto, Lemon Pesto, and Kale-Walnut Pesto.
The EASIEST Recipe To Remember
This recipe could not be easier to remember – the magic amount is 3/4 cup! It's 3 garlic cloves and 3/4 cup of every other ingredient. You'll be able to make it by heart in no time!
How To Use Sundried Tomato Pesto
There are endless ways to use pesto. We spread it onto pizza bases, stir it into tofu scrambles, dollop it on beans and couscous, and almost every week use it to make Vegetable Pasta Pesto.
A dairy-free alternative to regular pesto
This pesto is so flavorful you don't need to add Parmesan cheese. But you may want to sprinkle your finished dish with a little Parmesan cheese before serving it.
In our Capsule Kitchen have this pesto as well as Lemon Pesto, Kale-Walnut Pesto, and Basil Pesto.
Freezing Sundried Tomato Pesto
The great thing about making large quantities of pesto in one kitchen session is that it freezes well. Simply jar up what you want for the fridge and freeze the remaining pesto in small freezer-safe covered containers—I like the little one-cup deli tubs. When you're ready to thaw the pesto, simply pull it from the freezer and let come to room temperature. It won't take long, but if you need it fast, microwave it on defrost, a minute at a time, until it's thawed. And, if you're tossing it in something hot— pasta, for example— you can add it partially frozen and let the hot dish finish the thawing.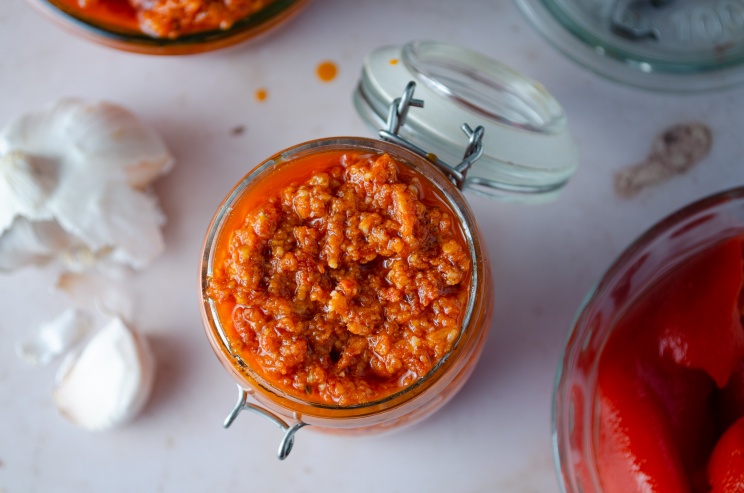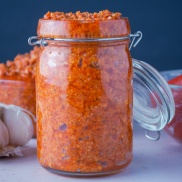 Sundried Tomato Pesto
Recipe Notes
*You can use some of the sundried tomato oil to make up the 3/4 cup olive oil.
Ingredients
3

cloves

garlic

3/4

cup

each: roasted almonds and grated pecorino Romano

(or vegan parmesan)

3/4

cup

each: roasted red pepper chunks and drained sundried tomatoes packed in oil

3/4

cup

olive oil*

salt and ground black pepper
Instructions
Mince garlic cloves, almonds, and cheese in a food processor. Add peppers and tomatoes; pulse to a coarse paste. Add olive oil; process to fully incorporate. Taste and adjust seasonings, including salt and pepper to taste. Can be covered and refrigerated a couple of weeks or more.