Sure, you can toss your pasta with basil pesto year-round, but doesn't it feel better to stick to the seasons? Pasta tossed with tomatoes, basil pesto, and fresh mozzarella is perfect summer fare, but try tossing that same bright, fresh pesto with a Brussels sprouts and butternut squash pasta in November. It's fine, you may say, but deep down you know there's something not quite right. The bright herbaceous basil is an awkward match for those brooding winter vegetables. Enter Kale Pesto!
Substitute hearty winter kale for the delicate basil, and those winter squash and Brussels sprouts have finally met their match! Using more assertive toasted walnuts, thyme, fennel seeds for the milder almonds (or pine nuts) also takes this pesto a cool-weather direction.
How to make Kale-Walnut Pesto
Kale-Walnut Pesto is simple to make (and even simpler if you've got your bag of massaged kale in the fridge). Start by toasting the walnuts and garlic, which heightens the nuts' flavor and tames the garlic's assertive raw flavor. Add the fennel seeds and thyme to the walnuts and garlic a few minutes into the toasting process. This prevents them from burning. Once the skillet's contents are fragrant, turn them into the food processor (no need to take time for them to cool), along with massaged kale and process. After you mince the kale, add the oil, and continue to process to a pesto-y paste consistency. Don't forget the salt and pepper!
A dairy-free alternative to regular pesto
Kale-Walnut pesto is so flavorful you don't need to add Parmesan cheese, but you may want to sprinkle your finished dish with a little Parmesan cheese before serving it.
In our Capsule Kitchen have this pesto as well as Sundried Tomato Pesto, Lemon Pesto, and Basil Pesto.
What to serve kale pesto with?
The most obvious partner for kale-walnut pesto is pasta (don't forget to save a little pasta cooking water for tossing), here's our method for pasta pesto. But it's also great drizzled over vegetables, beans, rice, and other cooked grains for an instant flavor boost. 
Freezing Pesto
The great thing about making large quantities of pesto in one kitchen session is that it freezes well. Simply jar up what you want for the fridge and freeze the remaining pesto in small freezer-safe covered containers—I like the little one-cup deli tubs. When you're ready to thaw the pesto, simply pull it from the freezer and let come to room temperature. It won't take long, but if you need it fast, microwave it on defrost, a minute at a time, until it's thawed. And, if you're tossing it in something hot— pasta, for example— you can add it partially frozen and let the hot dish finish the thawing.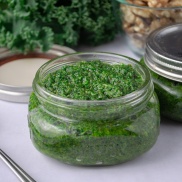 Kale-Walnut Pesto
Recipe Notes
Massaged Kale Recipe
Toasting the garlic along with the walnuts tames its potent raw flavor. Adding the fennel seeds and fresh thyme to the skillet the last couple of minutes brings out their flavor as well.Straight out of the food processor, this pesto needs a little time to calm down, so make sure to let it rest a bit before serving.Just like its basil cousin, this pesto is perfect for topping pizza, tossing with pasta, and stirring into soups and cooked vegetables.
Ingredients
1

cup

walnuts

2

large

whole garlic cloves

2

tablespoons

fresh thyme leaves

2

tablespoons

fennel seeds

4

cups

massaged kale

3/4

cup

extra-virgin olive oil

Salt and ground black pepper
Instructions
Place walnuts and garlic in a medium skillet and toast over medium heat, shaking the pan often until fragrant 4 to 5 minutes. Add thyme and fennel. Continue to toast until nuts and fennel darken in color, a couple of minutes longer.

Immediately turn into a food processor and process until ground. Add kale; process, once again, until ground. Add oil and pulse to combine. Add a sprinkling of salt and several grinds of pepper. Taste and adjust seasonings. Let stand for flavors to meld and develop, at least 30 minutes and up to a couple of hours. Can be refrigerated in an airtight container for several weeks or frozen for several months.