---
This is a Variation on a Root Formula, a simplified recipe that shows which ingredients
are core and which can be changed to create different flavor combinations or use what you
have on hand. See our other variations at the bottom of the Root Formula page.
---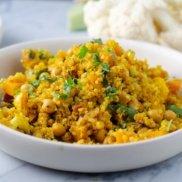 Curried Quinoa Skillet Supper with Cauliflower and Butternut Squash
Recipe Notes
Not all 12-inch skillets are alike. If you find that you're having trouble stirring in all of the quinoa, add what you can, and incorporate the rest as you serve it up.
Mix equal parts plain yogurt—plant-based or dairy—and chutney to serve with this skillet supper. If using Greek yogurt, you'll need to thin it with water or milk to drizzle consistency. 
Ingredients
4

cups

(1/2 recipe) cooked quinoa from A Pot of Quinoa

1

onion,

cut into medium dice

3

cloves

garlic,

minced

1/2

pound

each: small cauliflower florets and medium-diced butternut squash

2

tablespoons

olive oil

Salt and ground black pepper

4

teaspoons

curry powder

1

teaspoon

each: turmeric and ground fennel or chopped fennel seeds

1/2

cup

golden or dark raisins

2

cans (15-16 oz each)

chickpeas,

drained

1/4

cup

chopped fresh cilantro,

plus extra for sprinkling.
Instructions
If you don't already have cooked quinoa, make a pot (you will only need a half recipe for this dish) and prepare onions, garlic, and vegetables while quinoa cooks.

Place oil, onions, garlic, cauliflower, squash, 2/3 cup water, 1/2 teaspoon salt, several grinds of pepper, curry powder, turmeric, and fennel in a large (12-inch) skillet. Turn burner on high, cover pan, and cook until water evaporates, and vegetables are tender-crisp, about 6-10 minutes.

Remove lid, add raisins, and continue to cook until water evaporates and onions start to turn golden, 1 to 2 minutes longer.

Stir in quinoa and chickpeas; cook to heat through, just a couple of minutes. Stir in cilantro, adjust seasonings, and serve, sprinkling each portion with extra chopped cilantro.