Fact: we don't ever want to be without a container of quinoa in the fridge. If your pot of quinoa is made, you can be sitting down to a satisfying Quick Quinoa Skillet Supper in under fifteen minutes. Unheard of!
Another summer favorite is our Quinoa Cakes, which we're currently pairing with a summery Fruit Salsa made with avocado and tomatoes, but as you will see, the salsa recipe is a year-round formula. Give oranges and grapefruits a try in the winter. Come spring sub in tropical fruits or strawberries. In the summer use up those mounds of fresh berries and stone fruits. Apples and pears are a natural in the fall.
We also use quinoa in our immensely satisfying Warm Green & Grain Salad which has become a constant go-to at our house.
After seeing how easy breakfast, lunch, and dinner can be with a pot of cooked quinoa, we think you'll agree that life is better with a container of cooked quinoa in the fridge.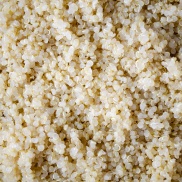 Quick Quinoa
Recipe Notes
Ingredients
2 1/2

cups

quinoa

1

teaspoon

salt
Instructions
Bring 4 cups of water, the quinoa, and the salt to boil in a large covered saucepan or small Dutch oven. Reduce heat to medium-low and simmer for 10 minutes. Turn off heat and let quinoa steam and hydrate, another 5 minutes. Fluff with a fork and continue with one of the recipes below or refrigerate in a covered container for a week or more.