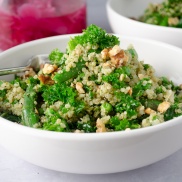 Warm Green and Grain Salad
Recipe Notes
If your quinoa is cooked and you've got roasted vegetables, this comes together in minutes. If you're starting from scratch, give yourself 25-30 minutes.
Add to this warm quinoa and kale base whatever roasted vegetables you may have on hand or quickly steam/sauté a vegetable. We steamed asparagus and peas for one salad and cauliflower for another.
Instructions
Place quinoa in a large microwave-safe bowl and microwave until piping hot, a couple of minutes. Remove from microwave and add kale, vegetable of choice, pesto, and a generous sprinkling of salt and pepper. Toss and taste, adding lemon juice as needed. (Lemon Pesto needs little or none; Kale-Walnut Pesto or store-bought basil pesto will need up to 3 tablespoons. Toss to coat again, taste, adjust flavorings, and serve.