There is certainly more than one way to cook vegetables, but there's no better technique for weeknight cooking that what we call "steam/sauté." Exactly as it sounds, the vegetable is steamed or "wet cooked" then then sautéed, or "dry cooked."
​Unlike other vegetable cooking methods that often require multiple steps and pots, this dual technique is seamlessly accomplished in the same pan. No steamer contraptions, no large quantities of water to boil, no awkward vegetable draining or cooling between steps.
​Simply put your vegetable of choice in a large skillet along with a small amount of salted water to which fat and optional seasonings have been added. The pan is covered and the vegetable steams until almost tender, at which time the lid is removed, the remaining water evaporates, and the vegetable begins to sauté in the fat and flavorings, intensifying flavors.
​With a few exceptions, this technique works with many seasonal weeknight regulars—broccoli, cauliflower, and carrots; Brussels sprouts, cabbage, and squash in fall and winter; asparagus, snow peas and sugar snaps in the spring and green beans in the summer.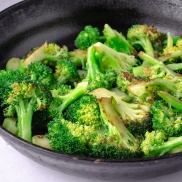 How To: Steam/Sauté Vegetables
Recipe Notes
Ingredients
1

pound

winter vegetables,

such as Brussels sprouts, butternut squash, or broccoli – halved, cubed, or cut into bite-sized florets
Instructions
Place vegetables in a large (12-inch) skillet (Brussels sprouts cut side down) with 1 tablespoon of oil, 1/4 cup of water, and a sprinkling of salt and pepper. Cover skillet, turn burner to high, and heat until vegetables start to steam. With skillet still covered, cook until all of the liquid has evaporated and vegetables start to sauté, about 5 minutes. Remove lid and continue to cook until vegetables turn golden brown, a few minutes longer.