If we here at Planetarian Life could only choose one bread to enjoy for the rest of our lives, we guess it would be Effortless Homemade Bread but, man, these Creamy Cornbread, Muffins, or Sticks would be a close second. This recipe is one I developed years ago but recently updated so that the muffins and corn sticks are egg-free, dairy-free, and just as moist and satisfying. 
Making it Planetarian
To Planetarianize this quick bread, I started by subbing in plant creamer and apple cider vinegar for the buttermilk. Then I used ground flax for the eggs, and plant-based butter for the dairy butter. 
Variations on Creamy Cornbread
We love that this cornbread recipe is so flexible. To make Creamy Cornbread, Muffins, or Sticks, just use a 15-ounce can of creamed corn. By simply subbing in a 15-ounce can of pumpkin puree for the corn and adding a few warm spices to the dry ingredients, you can use the same recipe to make Pumpkin Cornbread, Muffins, or Sticks. 
If you're using this cornbread to make Herbed Cornbread Dressing, bake it in a 13- by 9-inch pan thin cornbread, perfect for cutting into cubes. Otherwise, use muffin tins or corn stick molds to bake the breads. 
By brushing the muffin tins and corn stick molds with oil and placing them in the preheating oven, you'll get that wonderfully crisp exterior. You'll love the sizzle you get as you drop dollops of batter onto the hot surfaces. And the batter bakes into crunchy sticks and muffins that, when cut into, reveal a moist, creamy interior. 
Serve these sticks or muffins with all the usual suspects—soups, salads, chili, stews. Leftover cornbread can be reheated, but you can also turn leftovers into croutons for scattering over soups and salads. Just cube the bread and bake it in a 350-degree oven until fully crisp. This cornbread is perfect for fall, winter, and spring, but the pumpkin variation is an especially fun seasonal bread late September through Thanksgiving.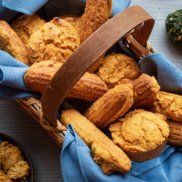 Creamy Cornbread, Muffins, or Sticks
Recipe Notes
*Yields: Makes one 13- by 9-inch pan or 18 corn sticks or 1 dozen muffins
If you're making Herbed Cornbread Stuffing, bake this cornbread in a 13- by 9-inch metal baking pan for a thin bread that easily cuts into cubes. Otherwise, make corn muffins or corn sticks.
Ingredients
1 1/2

cups

plant creamer,

such as oat

1

tablespoons

cider vinegar

2

tablespoons

flax meal

1

can (15 oz)

creamed corn

2

cups

yellow cornmeal,

divided

1

stick (8 tablespoons)

melted plant or dairy butter

1

cup

all-purpose flour

1

tablespoon

baking powder

1 1/2

teaspoons

salt

1/2

teaspoon

baking soda
Instructions
Adjust oven rack to middle position and heat oven to 400 degrees. Spray a 13- by 9-inch metal baking pan with vegetable cooking spray, line with parchment, then spray again. Whisk together plant creamer, vinegar, and flax meal; set aside

Heat creamed corn in a large saucepan or small Dutch oven over medium heat. Stir in 1 cup of the cornmeal and continue to cook until mixture starts to stick to the bottom of the pan and make a thick pasty mush. Remove from heat and whisk in milk mixture, then butter.

Mix remaining 1 cup of cornmeal with flour, baking powder, salt, and soda in a medium bowl. Pour wet ingredients into dry; stir until just combined.

Pour batter into prepared pan and bake until firm and golden brown, about 30 minutes. Remove from oven, cool in pan for 5 minutes, then turn onto a wire rack to cool completely. Continue with Herbed Cornbread Stuffing for further instructions.
To make corn sticks or muffins
Heat oven to 450 degrees, generously brush corn stick pans or a 12-cup muffin tin (each cup with 1/2 cup capacity) with oil and set in preheating oven while making batter.

Remove tin(s) from oven, divide batter evenly among the sticks or cups. (If making muffins, a spring-action ice cream scoop works well). Bake until sticks or muffins are golden brown, about 15 minutes for sticks and 20 minutes for muffins. Turn sticks or muffins onto a wire rack and let cool for 5 minutes. Serve.
Pumpkin Corn Bread, Muffins or Sticks (Variation)
Makes one 13- by 9-inch pan or 18 corn sticks or 1 dozen muffinsTo make equally wonderful pumpkin flavored cornbread, follow the above recipe for Creamy Corn Bread, Muffins, or Sticks, substituting 1 can (15 ounces) pumpkin puree for the canned cream corn and adding to the dry ingredients 1 teaspoon each: ground cinnamon and ginger and 1/8 teaspoon each: cloves and nutmeg.